Hackers build tools to combat Ebola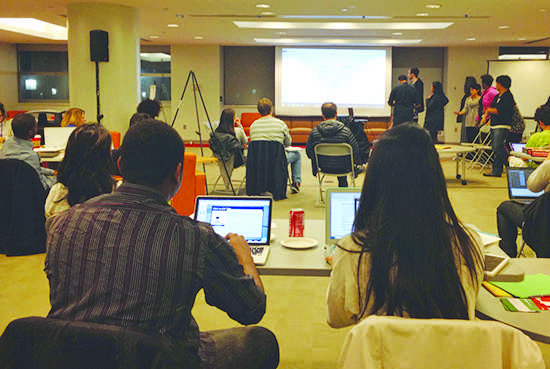 Students attempted to increase access to information and doctor-patient communication regarding the Ebola epidemic at a hackathon hosted at the Polytechnic School of Engineering.
Their goal was to respond to the challenge made by government agency USAID and technology platform OpenIDEO to create tools for fighting the disease. The hack session lasted from morning to evening on Sunday, Nov. 2.
The six teams, which comprised two to six students, created solutions using open source materials to promote universal accessibility to their creations. Many of the projects were focused around the use of SMS to coordinate Ebola treatment because of its ease of use and widespread access, even in developing countries.
CAS freshman Arnav Sood and third-year medical student Pamela Wu designed a text messaging service that would allow anyone to text a location to the number and receive an update on whether or not the location is in or around an Ebola-affected zone.
"We went with something that we could do really simply, and also make a nice presentation for," Wu said. "Ultimately, if you're on the ground, if you're just a citizen of one of the African countries that are affected, you're going to want something you can remember."
Wu and Sood's presentation demonstrated an already working version of the system, and explained its use of widely available resources, including an online map of Ebola outbreaks.
Kelsey D'Souza, a freshman at the Columbia University School of Engineering and Applied Science, and John Kotey, a junior in the same school, worked on an SMS-based help line and surveillance system. D'Souza said the system could be used by patients to report their status of sickness and by health workers to monitor cases and patients' locations. The database would be completely accessible via text.
"I thought I wasn't going to have any ideas, but I went in there and gave them my SMS idea and people liked it," D'Souza said. "Then we started building on it and at that point I realized it could be real, and we can make a difference."
Kotey said they have plans to expand the system and underscored the importance of recognizing that, with Ebola being a global issue, it is time to take action.
"So far, we have a case confirmed in New York, and it could affect anyone," Kotey said. "We feel that if we have the expertise and knowledge in certain fields to help people out, why not?"
 A version of this article appeared in the Monday, Nov. 3 print edition. Email Alex Bazeley at [email protected]