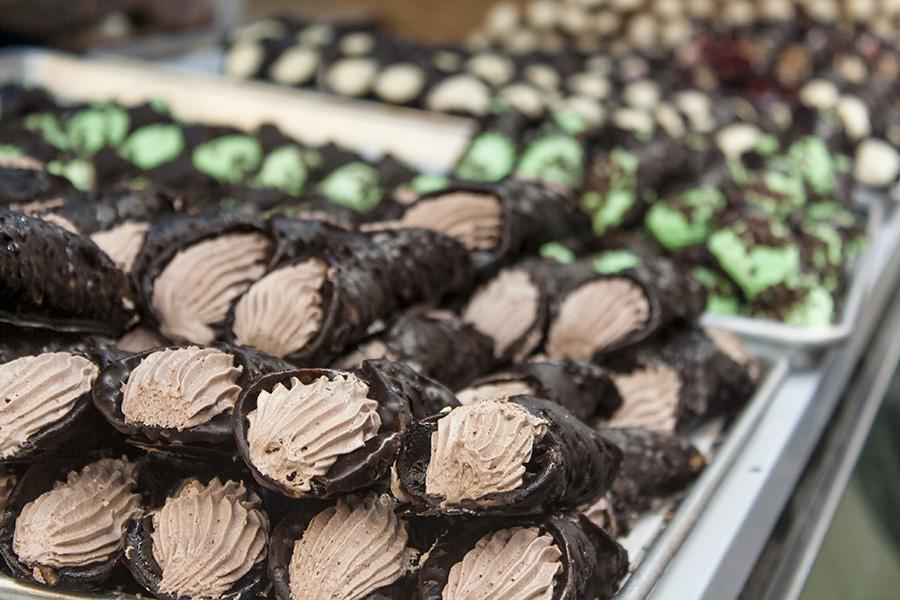 Each September, Little Italy's Feast of San Gennaro attracts over a million people from around the world. The festival features a splendid array of food stands, music, parades, carnival games and trinket vendors, but perhaps its greatest lure is the promise of one specific Italian classic: the cannoli.
This classic Italian pastry, which is made up of a tubular fried pastry shell filled with sweet ricotta filling, has delighted generations of San Gennaro visitors. Not only does the feast boast a world-famous cannoli-eating competition, but this year it unveiled the world's largest cannoli. Though the festival ended on Sept. 21, you can check out its famous cannoli year-round at these classic Italian spots.
Caffé Palermo
Caffé Palermo's "Baby John" DeLutro is the mastermind behind his family business and what he dubs "the best cannoli on the planet." Here, crispy shells are filled with a generous portion of what is kindly explained to inquisitive customers as  "traditional Italian filling" — sweet ricotta mixed with chocolate chips and finished with a touch of citrus zest. The treats are topped with powdered sugar, and it is difficult to find a cannoli more beautiful or more delicious. Caffé Palermo offers traditional mini cannolis for $2 apiece, as well as regular sizes for $4. 148 Mulberry St.
Ferrara Bakery and Café
Ferrara Bakery and Café, the shop behind the creation of the world's largest cannoli, offers its own version of a traditional Italian cannoli for $4. Its thick shell, notably absent of the greasiness that often plagues deep-fried pastry, holds ricotta combined with miniature chocolate chips and finely chopped candied fruit. Perhaps due to the complexity of the filling's flavor, Ferrara's cannolis are not too sugary, so the consumer can enjoy the whole pastry without being overwhelmed by sweetness. 195 Grand St.
Piccola Casa Dolce
Each year, Piccola Casa Dolce brings its cannoli to the Feast of San Gennaro. This New York-based online pastry company offers fresh and crunchy cannoli shells, which are filled-to-order with the company's own special blend of ricotta, chocolate chips and lemon zest. The bakery is passionate and extremely knowledgeable about cannolis and cannoli history. The emphasis on freshness, the rich history of Italian pastry excellence and the quest to educate the common cannoli-eater about the food's creation all make Piccola Casa Dolce a great option for meeting anyone's cannoli needs. piccolacasadolce.com, facebook.com/piccolacasadolce
A version of this article appeared in the Tuesday, Sept. 23rd print edition. Email Morgan Sperry at [email protected]