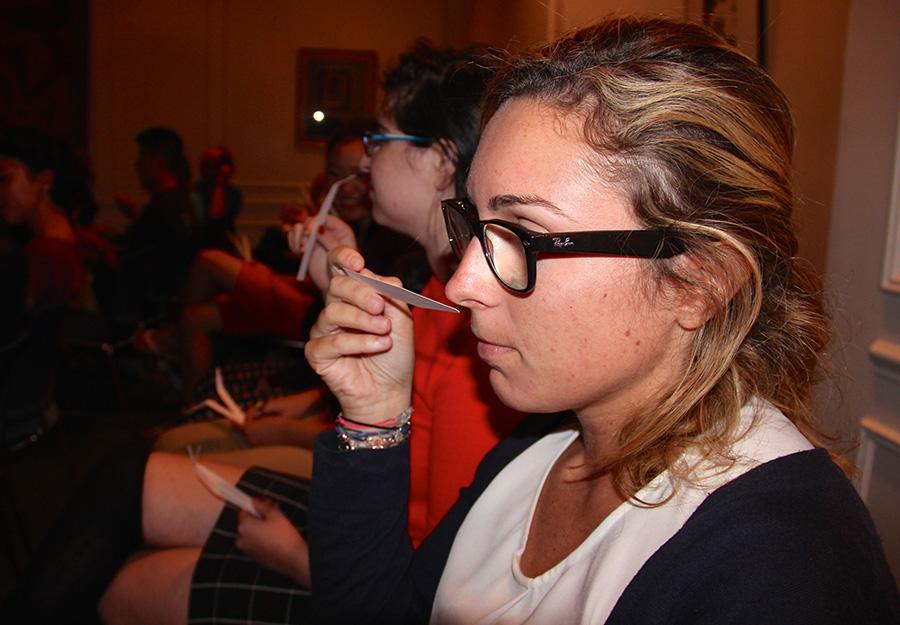 NYU's Maison Française presented an event to highlight "Dior: The Perfumes," a new book by journalist and perfume critic Chandler Burr on Thursday evening. The book explores the relationship between Christian Dior — both the man and the brand — and the perfumes of the storied French couture house.
Divided into two parts, the event featured a presentation by Frédéric Bourdelier, director of brand heritage and patrimony manager at Dior and a general discussion led by Burr.
Bourdelier, who joined the company in 2000, served as internal communication manager and international public relations officer before establishing the Brand Culture and Heritage Department in 2007. He kicked off the event with a multimedia presentation, providing historical and biographical information on Dior, including the influence that his upbringing in France and his backgrounds in art and illustration eventually had on his work.
Dior's career skyrocketed after the Parisian presentation of his first collection — dubbed the "New Look" — in 1947. The brand's first perfume, Miss Dior, followed the debut collection later that year, and Dior quickly ascended to dressing Hollywood's brightest starlets and harboring an unmatched sartorial influence among French and American film stars and socialites. Bourdelier made a point to describe Dior as a visionary not only of fashion, but also of business.
The presentation also featured archived video interviews with Dior near the time of his death in 1957 at 52 years of age.
"He was one of those figures who died at the peak of his glory," Bourdelier said. "His sudden death turned him into an icon."
Burr, the former perfume critic for The New York Times, then led an hour-long discussion of scent and its influences, identifying parallels between perfumery and art.
"I believe that scent is one of the great, one of the major art mediums of the world," Burr said.
Burr distributed individual samples of five different scents to audience members, analyzing the composition of the scents and emphasized that the art lies in the scent itself, dismissing the bottles and packaging as mere vehicles of advertisement and equating them with the frames that showcase artwork.
"[The scent] is an aesthetic. It's a story. It's a work of art," Burr said.
Burr emphasized that his latest publication was a contractually independent endeavor that had no formal connections with the brand itself. He said he didn't take the critical approach with the book as he did with his Times column. Instead, he focused on exploring the stories of the Dior scents he most valued.
Before penning "Dior: The Perfumes," he authored two other books on the topic of perfume, "The Emperor of Scent" and "The Perfect Scent." He also established the Department of Olfactory Art at the Museum of Arts and Design.
Burr said he believes scent will eventually become a more mainstream, well-known form of art because it allows for interpretation on the part of the wearer.
"A work of art put out into the world by an artist is no longer the artist's," Burr said. "It's whatever it means to you."
Email Julianne McShane at [email protected]