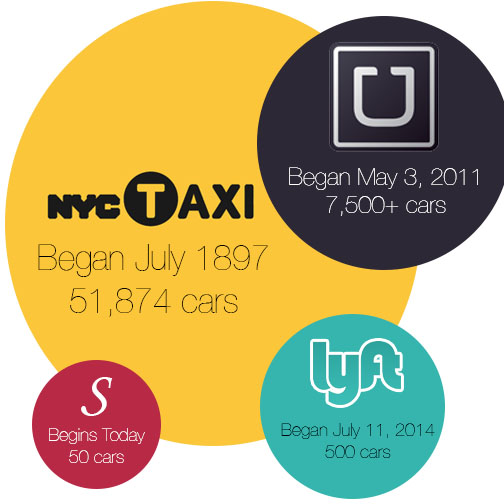 UPDATE: The release of the app has been delayed until they register a total of 500 female drivers.  The new launch date has not been announced.
–
Original story as follows: 
The new livery service SheTaxis launched today, and will offer women in New York City, Westchester County and Long Island an all-female taxi service, similar to Uber and Lyft. SheTaxis, known as SheRides in New York City, was founded by Stella Mateo with the goal of providing a safe means of transportation for women who feel uncomfortable riding in cars with unknown men.
Mateo told The New York Times in an article from Sept. 7 that the company employs 50 female drivers between the ages of 21 and 70, and that she hopes to expand the service to the District of Columbia, Miami and Chicago in 2015.
GLS freshman Andrina Voegele said SheTaxis appeals to her because of the security it provides women.
"This service is a good idea because it'll make me feel safer than riding with a strange man in the middle of the night," Voegele said. "I like that it's created for the safety of women."
SheTaxis was also created with the intention of adding women to a male-dominated industry, as only  1 percent of yellow cab drivers are female.  Natalia Binnmyr, a mother who recently moved to New York from Europe with her two young children, said the new app was a good idea and similar to certain services offered overseas.
"I like women taxi drivers," Binnmyr said. "I feel safer, and I always had a good experience when a woman drove me. There was a service like this in Europe called Pink Taxi and people often used it for their children." 
In an article from Sept. 8, the Wall Street Journal wrote that the service is illegal because both local and federal laws forbid businesses from turning down workers or applicants based on gender. NYU Law professor Samuel Estreicher was quoted in the article and raised doubts as to the legality of the service, arguing that it discriminates against male passengers.
"Generally the law doesn't recognize the customer preference as a justification for discrimination," Estreicher said in the article. "Employers cannot assume all males will be violent sex offenders."
LS freshman Idy Watt agreed, saying the app discriminated against men.
"I think it's discriminatory and find it wrong that women would just assume that all male taxi drivers are dangerous for them," Watt said.
Poly freshman Yohann Abittan said the service was justified in turning away male passengers.
"I don't think this is a discriminatory service," Abittan said. "It is a good idea, but it certainly signifies a problem in society. It teaches future generations that men cannot be in contact with women."
A version of this article appeared in the Tuesday, September 16, print edition. Email Sonja Popovic at [email protected]