NFL commissioner faces league struggles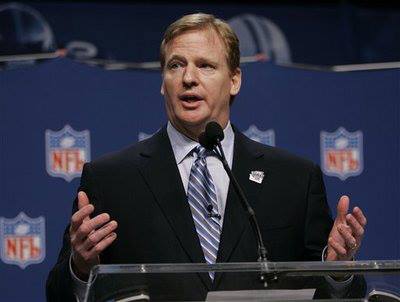 From the moment Roger Goodell became the commissioner of the NFL in 2006, his central mission has been to protect the shield, preserving the league's image and ensuring that focus would be squarely on the game of football, while quashing negative press. No off-the-field controversy, it was promised, would overshadow the NFL under Goodell and his associates.
Over the past eight years, however, Goodell's quest has fallen short. Despite record TV ratings and revenue under Goodell's commissionership, the once seemingly unassailable NFL has come under fire for missteps that have sullied the once-pristine image of the league.
The most alarming controversy is surrounding the association between concussions in the NFL and long-term brain damage. For years, the NFL denied such a link, claiming that its players did not routinely suffer concussions and maintaining there is no association between multiple concussions and mental impairment. It hid damning evidence and published its own studies in an attempt to discredit the growing body of sources linking repeated hits to the head to chronic traumatic encephalopathy, a serious, degenerative disease. Goodell was the leader of the charade and was all too willing to tell the public about the NFL's concern for player safety while generously reaping the profits of its players' grueling physical punishment. Even after finally admitting the link between concussions and CTE, the NFL faces massive payouts to retired players and their families. After years in retirement, these players are still suffering the debilitating physical, mental and emotional effects of careers marked by the pressure to play while injured and a disturbing lack of proper medical care following injuries.
Goodell's failures do not end at the edge of the gridiron. In recent months, the commissioner has mishandled the league's dealings with domestic abuse charges against high-profile players. Baltimore running back Ray Rice, Carolina defensive end Greg Hardy, San Francisco defensive end Ray McDonald and most recently Minnesota running back Adrian Peterson have all faced investigations for domestic assault, with Peterson being indicted on charges of child abuse just this past week. Only Rice has faced suspension and was banned indefinitely when a video emerged of him knocking his then-fiancée unconscious in a casino elevator. While Goodell claims ignorance, rumors abound that the NFL was aware of the video all along and still chose to serve Rice with a mere two-game suspension. While Hardy, McDonald and Peterson have yet to be disciplined by the league, Cleveland wide receiver Josh Gordon potentially faces a 10-game suspension for repeatedly testing positive for marijuana. This discrepancy speaks volumes about Goodell's inability as commissioner to do what is right, dangerously compromising the league's integrity.
The failures of Goodell have left the NFL in a difficult spot regarding the commissioner's future, as they try to ensure that punishments fit players' crimes, but also work to ensure players' long-term health and well-being.
Email Charles Surette at [email protected]