Navigating the City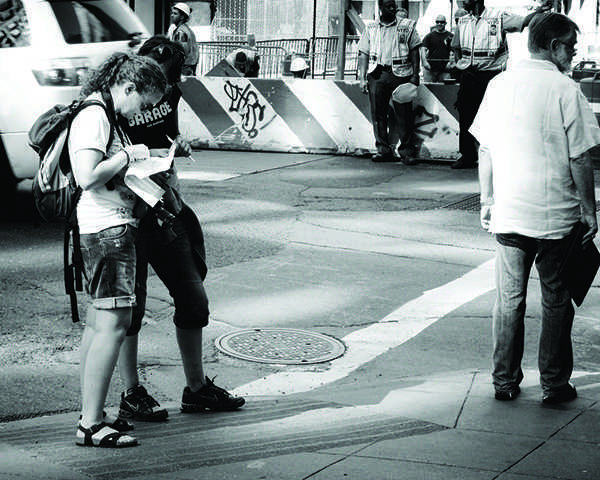 The characters on "How I Met Your Mother" once contemplated what constitutes being a New Yorker, arguing over whether you were once you have seen Woody Allen, stolen a cab from someone, cried on a subway or killed a cockroach with your bare hands. Upon first arriving in New York, it will take time to adjust to both the vermin and the pace of the city, but that doesn't mean you can't fake it until you make it.
If you aren't ready to walk quickly, move out of the way. New Yorkers are always in a hurry to get to their destination. While the rapid pace of New Yorkers may mean they miss the impeccable architecture of the city, it means you might need to miss it too, at least while in congested areas.
New York is blessed with a variety of public transportation options. However, to look like a city pro, opt for the subway instead of a cab. Phone apps like HopStop will be your new best friend, and you'll inevitably join the herd of New Yorkers sighing about the delays of the L train.
Cabs can be handy, however, when you're headed to an airport or someone has had too much to drink, as a cab is the safest bet. For those times, learn to hail a cab heading in the direction you're headed or you'll be going further than required, and make sure the center of the light atop the cab is lit before you attempt to grab the cabbie's attention.
As Russell Baker says best, "New York is the only city in the world where you can get deliberately run down on the sidewalk by a pedestrian." Keep your head down, walk like you need to be somewhere and, at all costs, avoid Times Square.
A version of this article appeared in the 2014 Food and Fun Guide. Alexa Spieler is a music editor. Email her [email protected]