Range of fall shows graces New York museums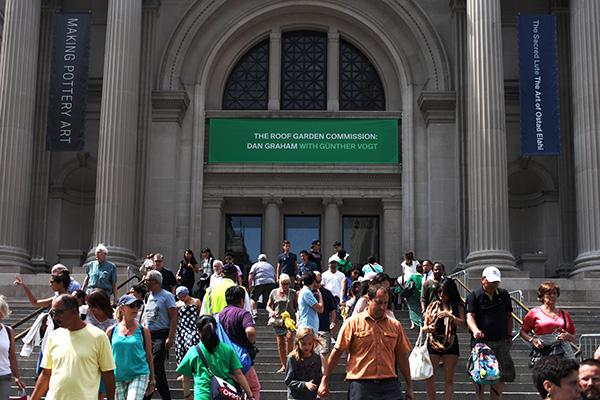 After a summer dominated by Jeff Koons' high-meets-low kitsch antics and Kara Walker's sphinx-mammy sugar sculpture, it was easy to forget that there was hope for artists who lay outside the canon. A wave of Latin American art exhibitions brought a much-anticipated Lygia Clark show to the Museum of Modern Art and an ambitious survey of Latin American photography to the International Center for Photography, while the work of Asian, Latin American and Middle Eastern Minimalists were finally exhibited as part of "Other Primary Structures" at the Jewish Museum.
The fall brings more fresh perspectives to the contemporary art world beginning in September with the Asia Society's Nam June Paik retrospective, "Becoming Robot." Starting on Sept. 5, this exhibition — the first New York show of the Korean-American artist's work since his death in 2005 — focuses on Paik's use of new media from his Zen TV sculptures, often combined with magnets to create wave-like images on TV screens, to his larger-than-life "TV Robots" made of stacked televisions. Though the "father of video art" has received several major retrospectives, the Asia Society's show is his largest in over a decade.
Two major retrospectives are giving New Yorkers the chance to rediscover women artists in October. At El Museo del Barrio on Oct. 9, there will be a retrospective of Marisol, the Venezuelan-American Pop artist who, like her male colleagues, used sculpture to question the connection between commercial objects, sexuality and violence. Yet, unlike Jasper Johns whom she is often compared with, Marisol was inspired by folk art and sometimes used life-sized wood humans to restage Christian iconography, bringing a historical element to her work and merging high and low cultures in the process.
At the Brooklyn Museum, "Judith Scott — Bound and Unbound," the first major U.S. retrospective of the little-known outsider artist, will open on Oct. 22. Critics have found Scott's work enigmatic, mostly discussing her Down syndrome as a creative force rather than her fiber-wrapped found objects themselves. The show, mounted by the museum's feminist art center, will change all of that, making viewers think about the mystery and strange charm of Scott's deceptively simple sculptures.
No museum's fall slate is more ambitious than the Guggenheim Museum's, which will mount "ZERO: Countdown to Tomorrow, 1950s-60s" and "V.S. Gaitonde: Painting as Process, Process as Life" in October. The former's name refers to the ZERO group — a German group of artists that combined radical materials with movement. Both shows will be the first U.S. retrospective for their respective artists.
The Metropolitan Museum of Art's "Death Becomes Her" show looks to be one of the strangest and best shows of the season. Starting on Oct. 10, the show will chart the history of mourning gowns during the 19th century. Compared to major El Greco celebrations at the Frick Collection and the Met opening just after this, "Death" may not be mainstream, but, as with the aforementioned exhibitions, a little exploration never hurt anyone.
Alex Greenberger is arts editor. Email him at [email protected]