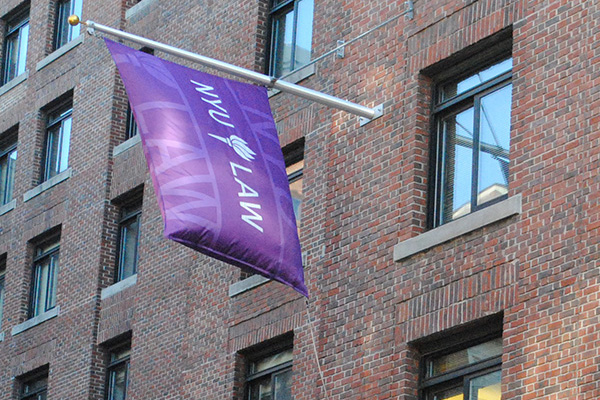 UPDATE Thursday, May 1, 10:08 p.m.:
Herrine and Gertner said that while they were unaware of the details surrounding Straus' departure from the law school, the agreement for him to leave was gratifying.
"We think Daniel Straus's departure from the board represents an acknowledgment of his insurmountable conflicts of interest and of the overwhelming expression of concern from the NYU Law community — students, faculty and alumni alike," they said in an email. "It is comforting and gratifying to see that when students are targeted by a trustee, there are consequences."
Second-year student Maggie Marron, who helped draft the second petition, said it is important to remember that the subpoenas still stand. Herrine and Gertner said they were unaware of whether the subpoenas will be dropped.
"The widespread concern the law school student body demonstrated in recent weeks made it loud and clear that our community wants trustee accountability, to hold all our members to higher ethical standards, and won't tolerate intimidation of students or workers," Marron said.
She added that many NYU students stand in solidarity with the CareOne workers.
–
Original story as follows: 
Daniel Straus and the School of Law have mutually agreed that Straus will leave the Law School Board of Trustees at the end of the academic year on May 22.
Trevor Morrison, the dean of the law school, and Anthony Welters, the chair of the Board of Trustees, announced the decision in an email to the law community earlier this afternoon.
Straus had recently become embroiled in controversy when lawyers from his health care company CareOne, of which he is the owner, subpoenaed two law students in March in an ongoing case against the Service Employees International Union. The law students had circulated a petition calling on the law school to evaluate Straus' labor practices in regard to CareOne and HealthBridge Management, another health care company he owns.
The law school stepped in and agreed to provide legal counsel and cover any costs the students incurred as a result of the subpoenas. A second petition signed by 500 members of the law community called on Straus to withdraw the subpoenas. CareOne has maintained that Straus is not a part of the litigation.
There have been ongoing student demonstrations calling on the law school to revisit its relationship with Straus since fall 2012.
Check back for updates as the story develops.
Michael Domanico is managing editor. Email him at [email protected]