Academic freedom, expression evaluated at portals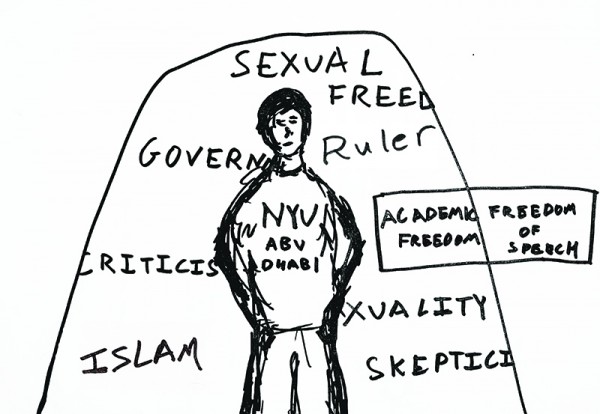 As NYU continues to increase its global presence, it begins to contend with radically different rules regulating free speech in host countries. Many professors, student organizations and activists have criticized the university's willingness to work with governments that place limitations on expression.
Some students who have studied at portal campuses said the degree to which their speech is restricted depends as much on the content of the speech as it does on where the speech is made.
"You can do everything on [NYU Abu Dhabi's] campus," NYUAD sophomore Isabelle Galet-Lalande said. "It's just as progressive, if not more progressive, than anywhere else. The difference, though, is that we don't necessarily take everything outside of the university walls."
Galet-Lalande said while she has never felt that her academic freedom was restricted, even when discussing subjects that are frowned upon by the U.A.E. government, her freedom of expression outside the classroom is more limited. Galet-Lalande said she understands that she is limited by U.A.E. laws, which prohibit speech that defames Islam, criticizes the government or promotes certain sexual acts.
NYUAD spokesman Greg Bruno said the university is aware of the distinction between academic freedom and freedom of expression and has advised NYUAD students and faculty about its relevance.
"NYU Abu Dhabi enjoys full academic freedom," Bruno said. "It is also worth noting that academic freedom is different than freedom of expression. As an example, it should not be assumed that academic freedom would protect tweets or Facebook posts."
Bruno added that these legal limits on speech do not restrict academic freedom, which he said is the chief concern of the university.
Others, however, have been more suspicious of the arrangement. NYUNY english professor John Archer said the restrictions on freedom of expression at NYUAD are more significant than the promise of academic freedom.
"It is my belief that academic freedom is meaningless unless it is practiced on a continuum with freedom of expression in the society of which a university is a member," Archer said. "The display of [academic freedom] as signs of freedom for visitors to the country and for national elites covers up or distracts from the political and labor abuses of an autocratic government."
However, NYU spokesman John Beckman said academic freedom is an issue separate from freedom of expression, and a freedom that the university is confident it has secured.
"I do not understand why the critics believe that these values — academic freedom and the liberal arts — are so fragile that they will inevitably crumple in a society that is different from our own," Beckman said.
Like students in Abu Dhabi, students at NYU Shanghai are regulated by a strict set of laws regarding free speech. Both sites have student publications, NYUAD's The Gazelle and NYUSH's On Century Avenue, that have to follow national media laws restricting what they can publish. On Century Avenue also needs to have its content approved by faculty before publishing.
GLS sophomore Taylor Patrash, who spent her freshman year in Shanghai, said she was able to exercise academic freedom on campus but free expression was more limited. Patrash said students at NYUSH were given instruction at orientation on how to circumvent China's notoriously limited access to the Internet while in the dorms using proxy servers.
Patrash added that, while she never felt restricted in the classroom, she did sometimes feel the need to self-censor.
"In an academic environment, if I avoided [sensitive issues], it was out of cultural respect for my peers," Patrash said, referencing topics like the Tiananmen Square massacre, which she said was not widely known by her native Chinese classmates. "It's like telling someone that Santa's not real — you don't want to be that person."
While Patrash noted students are aware that they are in a different culture, she said NYUSH makes an effort to keep students from feeling isolated.
Bruno agreed that students in Abu Dhabi also recognize the cultural differences and said the students at NYU's portal campuses are increasingly interacting with the cities in which they study. For example, NYUAD hosts Institute Programs, which include lectures, film series and exhibitions that are open to the public.
"When we first began our institute programming, we were very happy to have audiences of 75 people," Bruno said. "Today, we've built a very dedicated audience base and are frequently hitting the 200 mark as we host over 70 public programs a year in Abu Dhabi."
A version of this article appeared in the Thursday, May 1 print edition. John Ambrioso is a staff writer. Email him at [email protected].