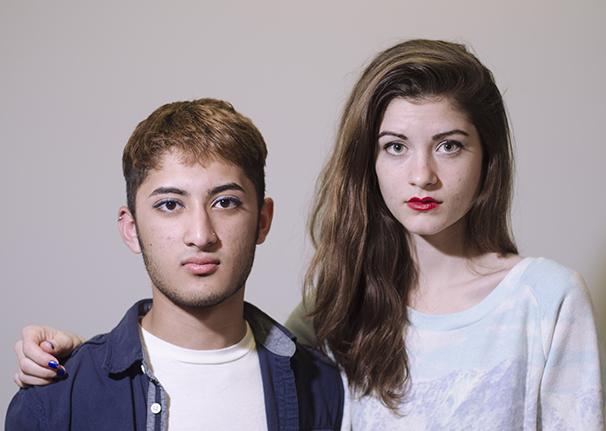 Makeup trends from the '90s, from dark, dramatic lipstick to heavy hues of eyeliner, are looks that seem to be coming back in style. While today these makeup looks are regularly reserved for nighttime social gatherings, the chic trends associated with the '90s time period are becoming relevant during the day as well.
Glamorous, '90s-inspired fads are making a comeback with a variety of casual makeup looks.
One makeup trend to be aware of is the red lip. Red lipstick is becoming more common on both runways and city streets. This look is one of the few that can be recycled for dinner parties, worn to class and sported for many other occasions.
Blue eyeliner — and a lot of it — is a standout element when considering '90s glam trends. Spring and summer advertisements are boasting models with considerable amounts of defined eyeliner.
Smudged eyeliner and the smoky eye are for outfits where the attention is drawn more to the clothing, but defined eyeliner applied in smooth, straight lines will make eyes of any color pop.
Pink blush is another stylish direction to go in when applying makeup for the entire day. While wearing street clothing, pink blush adds the flirty element to one's look and, when worn with evening attire, it provides a refined touch.  Shades that include small amounts of sparkle and glitter are also very popular.
Glossy lips are a must because they add shine and polish to anybody's smile. This classy style can improve the overall appearance of an ensemble. The gleam of one's lips is important because it draws attention to the color.
Equipping one's makeup drawer with a few different shades of gloss to produce this elegant look will pay off almost every day.
Curled, extended and very dark eyelashes are also in style, and this trend can be more wearable than some of the other '90s styles. No matter what the occasion, lengthy eyelashes are always dashing, so be sure to find the right mascara and eyelash curler. Long lashes can complete a sundress ensemble, a pantsuit or even cutoff denim shorts and a cute tank top.
Lastly, foundation is key. Making sure to include a gentle, creamy foundation that matches skin tone. Without a base that complements the hues in the other components of the makeup, the makeup will look off, and the blush and lipstick will appear incomplete.
Be careful not to choose a shade that is too dark or too light, as mismatched makeup can ruin a beautiful look. When shopping for foundation, it is smart to try to match a small sample of the product to a hand or the arm, so as to not buy something that does not match your face tone.
A version of this article appeared in the Thursday, May 1 print edition. Maggie O'Neill is a staff writer. Email her at [email protected].