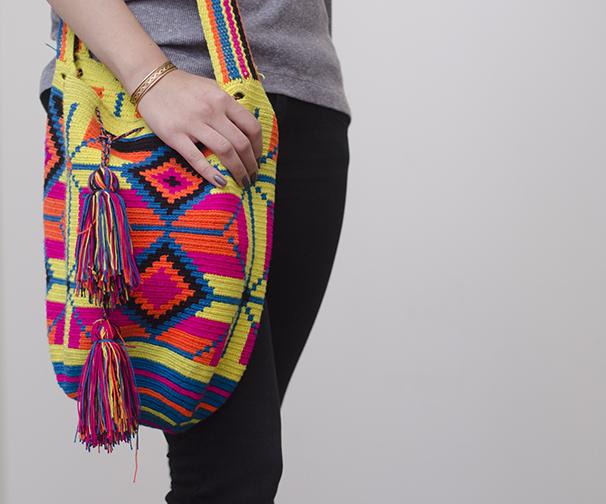 With spring fashion in full swing and summer on the horizon, colorful and bohemian trends have gained their annual popularity. This year, brightly colored woven bags called Mochilas have become trendy, but the increasing popularity of these bags means more than simply an influx of colorful purses. This is a trend that has deep cultural and economic implications.
The word Mochila is a generic term used for 'bag' in Spanish, but the name has become synonymous with a specific type and style of purse in the fashion world. Mochilas are uniquely patterned and colorfully woven bags that originated in Colombia. Authentic Mochilas are made from naturally grown, naturally dyed cotton and are handwoven by people of the Wayuu tribe.
The Wayuu tribe inhabits the arid, harsh region of Colombia called the La Guajira Peninsula, which lies along the Caribbean coast and shares a border with Venezuela. The bags are an important cultural and economic facet of the Wayuu way of life, as they represent tribal traditions and also supply an important source of revenue for the people. Women typically make Mochilas, and a single bag can take up to a month to complete because of the intricate geometric designs that are often constructed without a loom. Weaving skills are passed down from mother to daughter at a young age in order to keep the traditional methods alive.
Many companies, particularly online vendors, have begun selling Mochilas that are made in the traditional manner by people of the Wayuu tribe. Online companies such as MochilaBags and Wayuu Tribe are dedicated to selling Mochilas that are fair trade and will help the Wayuu people preserve their way of life. Due to the time and care that goes into each bag, authentic Mochilas tend to be expensive and are generally in the $100 to $200 range.
The idea of selling Mochilas to benefit their creators is not a new idea. In 2009, a group called BeLive launched what is called the Mochila Project, which gave 40 world-renowned designers, including Vera Wang and Oscar De La Renta, a traditional bag the designers could embellish and personalize. The bags were then auctioned off at high-end designer prices, fetching up to $5,000 each, and the proceeds went to various charities in Colombia.
Though there is a great deal of charity and care in preserving cultural traditions involved in the Mochila trend, there are also many stores that disregard the cultural meaning of the bags and are selling items that bear a striking resemblance to the original items. Retailers such as Forever 21 and Urban Outfitters have many Mochila look-alikes for sale and their popularity is apparent, as many are sold out in stores and online. This is not the first time a culturally significant item, such as Native American-inspired jewelry, has become a mass-produced, widely available trend. While shopping in reasonably-priced stores, consumers should keep in mind the origins of the trends being sold. It is ultimately up to the consumer to keep in mind the origin and implications of purchasing Mochilas, or similar-looking bags. Though often more expensive, purchasing authentic Mochilas does benefit the communities that rely on the income generated from these bags.
A version of this article appeared in the Wednesday, April 30 print edition. Rebecca Riddle is a staff writer. Email her at [email protected].