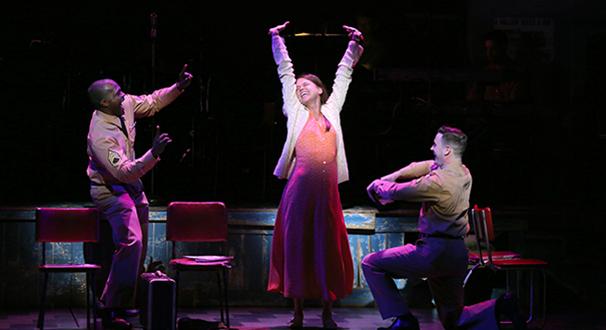 Over the past decade, Sutton Foster has tap danced her way into audiences' hearts. Often sporting sequin-encrusted costumes that cannot match the glitter of her smile, her charm has proven irresistible in plays such as "Thoroughly Modern Millie" and "Anything Goes," both of which won her Tonys. But in the Broadway revival of "Violet," Foster plays a young woman for whom both sparkles and tap dancing would be distinctly out of place.
"Violet," with music by Jeanine Tesori and book and lyrics by Brian Crawley, is the story of a young woman who suffered a tragic accident as a child. As a result, she bears a disfiguring scar across her face that is so disturbing to look at that it causes bystanders to flinch away in fear. Set in 1964, the musical tells the story of her journey to visit a faith healer in an attempt to fix her face and finally become beautiful.
Foster's Violet is in many ways an antithesis to most of the roles she has played before. She is neither beautiful nor popular, but she does have the steely determination that Foster is so excellent at portraying. Foster plays the role wonderfully, showing the audience Violet's insecurities and doubts while maintaining a tough and likeable exterior.
Foster is also surrounded by an excellent supporting cast. Alex Gemignani plays Violet's father, present only in flashbacks but providing context for how Violet became such a strong young woman.
Joshua Henry and Colin Donnell play two army boys vying for Violet's attention. Donnell is equally charming and sleazy — a boy in a man's skin, as Violet says at one point. People shy away from Henry's Flick as much as they do from Violet — while she has a scar marring her face, Flick is black, which makes him an outsider to most of the world in this era. Flick's mid-show number "Let It Sing" is a showstopper.
However, the songs provide the only real character development throughout the show.  Crawley's book feels more like a rickety framework from which the score — which is truly fantastic — hangs, rather than a foundation that helps to build the story. It is hard to not wish for more dialogue between Violet and the two young men to supplement what is revealed through lyrics.
Yet "Violet," exceptionally directed by Leigh Silverman, largely overcomes this flaw. It is short, condensed into one act from an original two, and music makes up the majority of the production. Crawley and Tesori's score is a mixture of country, gospel and blues, matching the era while somehow still feeling modern and relevant. As long as the cast is singing, it is hard to complain about the difficulties of character development.
"Violet" is not a big musical with flash or glitz, but it is sincere and heartfelt, giving viewers a set of characters who want desperately to fit in. Watching as they take this journey of self-discovery — both literally and metaphorically — makes for a wonderful night of theater.
The show runs through Aug. 10.
A version of this article appeared in the Tuesday, April 29 print edition. Dylan Jarrett is books/theater editor. Email her at [email protected]