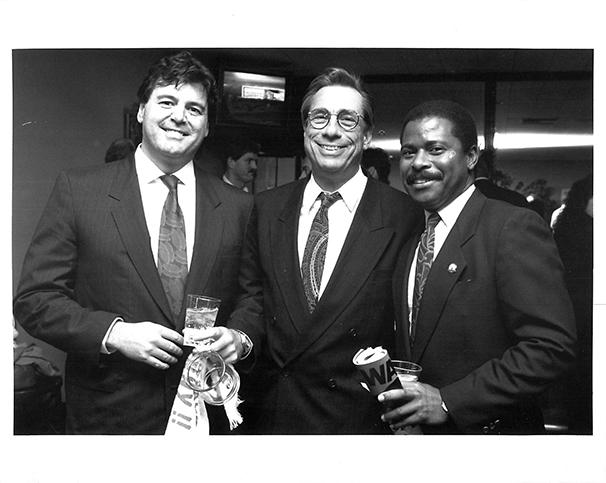 TMZ reported that Donald Sterling, owner of the Los Angeles Clippers, was recently recorded admonishing his girlfriend for posting an Instagram picture with Magic Johnson, a three-time NBA MVP and five-time NBA champion. Sterling goes on to demand that she no longer bring any African-Americans to Clippers home games or make it known that she is "associating with black people."
The tirade is the latest in a long line of documented racism by the billionaire real estate tycoon. In 2009, Sterling settled a lawsuit with the U.S. Department of Justice over a refusal to rent apartments in his L.A. properties to African-Americans and Hispanics. In addition, he is alleged to have once asked a candidate for Clippers head coach "why [he] thinks [he] can coach these niggers."
Sterling's deplorable behavior has shifted focus away from the exhilarating on-court action during the NBA postseason, and also weakened the NBA's efforts to brand itself as a league in which African-American athletes be leaders on and off the court. As the league attempts to strike a balance between policing players' actions and not appearing overly controlling, Sterling's statements serve as a harsh reminder of the gulf between the predominantly white team owners and the overwhelming number of African-American players. As the rancor surrounding the 2011 NBA lockout made abundantly clear, players continue to voice skepticism about the owners having the players' best interests at heart — they think owners are more concerned about money.
This backward view of the relationship between players and owners was once again put on full display following LeBron James' decision to depart his hometown Cleveland Cavaliers in free agency in July 2010 to join the Miami Heat. Cavaliers owner Dan Gilbert responded with an open letter to Cleveland fans, accusing James of "betraying" the franchise and city through his "act of disloyalty" by signing with Miami, willfully ignorant of James's right as a free agent to choose his team and the Cavaliers' complete refusal to surround their superstar with talent. Instead, James' value was reduced to an asset under the exclusive control of the team. Like Sterling, Gilbert showed a cold-hearted disregard for James and dehumanized him by viewing him as a money making enterprise for his team, rather than as a person with his own agency.
Sterling has demonstrated his callousness and insensitivity on numerous occasions in the past, and this week's latest incident only serves as a reminder of the reality of race relations not just in the NBA, but in the United States as a whole. If the NBA is to continue making strides toward providing equal opportunities for players, it must be quick to sanction Donald Sterling for his remarks and ensure that any future team owners are held to a higher standard of behavior.
A version of this article appeared in the Monday, April 28 print edition. Charles Surette is a contributing writer. Email him at [email protected]