Petitions circulate after flyer scandal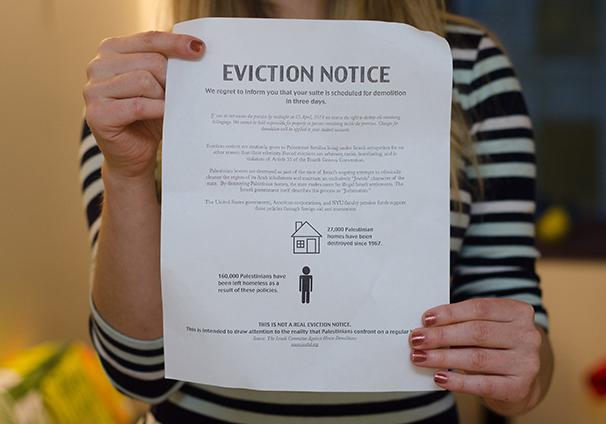 Both the NYU chapter of Students for Justice in Palestine and TorchPAC, a Jewish student organization, created petitions on change.org regarding their positions on the recent flyer controversy.
On April 24, members of NYU SJP delivered approximately 2,000 flyers resembling eviction notices to thousands of residents in Palladium and Lafayette residence halls.
NYU SJP created their petition in response to CAS sophomore and vice president of TorchPAC Laura Adkins, who wrote a piece in The Times of Israel accusing NYU SJP of targeting Jewish students, which was then picked up by mainstream national media outlets.
The petition is titled "Stand in Solidarity with NYU SJP" and is directed toward the NYU community and community at large.
"Accusations leveled against SJP claimed that the action targeted Jewish students; this is erroneous and no objective evidence has been cited to support these allegations," the petition reads.
NYU SJP said the dorms that were chosen were selected because of their sizes.
"These dorms were chosen because they are two of the largest dorms on campus and were the most accessible for all our members," an email statement from SJP said.
Additionally, NYU SJP noted that the flyer distributors were from a range of backgrounds, including several who were Jewish.
CAS junior Ellis Garey was one of the Jewish students who distributed the flyers with NYU SJP.
"There is no reason for a Jewish student to be any less inclined to support human rights and equality than a non-Jewish student," Garey said. "I support the rights of Palestinians because I am committed to these rights."
TorchPAC created a petition, "Hold NYU's Students for Justice in Palestine (SJP) Accountable for Incitement on Campus," the next day. The petition is directed to NYU President John Sexton.
"We ask that the University administration take firm action against Students for Justice in Palestine for violating university policy and engaging in hate speech so that we can ensure that our campus remains safe for all students and that no minority group feels unwelcome," the petition reads.
As of press time, the SJP petition garnered 843 signatures and the TorchPAC petition garnered 336.
NYU spokesman John Beckman said the manner in which the flyers were distributed is not consistent with the university's tradition of professional discourse.
"A flyer titled 'eviction notice' anonymously slipped under doors at night is not an invitation to thoughtful, open discussion," Beckman said. "It is disappointingly inconsistent with standards we expect to prevail in a scholarly community."
Beckman said the Residence Hall and Life Administration will be looking into the incident and taking further action after the investigation concludes.
CAS senior George Georgiadis signed NYU SJP's petition.
"Absolutely nothing should happen to SJP," Georgiadis said. "What they did was a clever direct action that got the whole campus talking. It was an enlightening way to engage in dialogue."
Adkins said people should focus on the content of the flyer as opposed to where the flyers were distributed. She said TorchPAC is pressing for a formal apology from NYU SJP about the flyers, which the group has called anti-Semitic.
"Anti-Semitic flyers cannot and should not be tolerated at a university that prides itself on being a safe haven for the free exchange of ideas and a safe space for students of all backgrounds," Adkins said.
The notion of solidarity that appears in NYU SJP's petition is in line with one of the group's reasons for distributing the flyers.
"This was also an act of solidarity with [Northeastern University's chapter of SJP] who were faced with suspension and other punishments from their administration for partaking in a similar action that is completely protected under freedom of speech," NYU SJP's email said.
Northeastern briefly suspended its chapter of SJP following a similar distribution of flyers in addition to allegations that the organization vandalized school property and disrupted another student group's event.
Northeastern freshman John Pedro said the flyers at Northeastern caused less controversy than at NYU, but said the flyers were not a practice of free speech at either school.
"I'm a pretty ardent free speech supporter, [but] I don't think it's right to distribute fake eviction notices," Pedro said. "That's kind of fraudulent."
President of Hillel NYU and Gallatin sophomore Zachary Schwarzbaum said the distribution of flyers was offensive, but he did not feel victimized.
"The act did not target Jewish students and was not anti-Semitic," Schwarzbaum said. "We are working to ensure that it is seen as an isolated incident and has little impact on broader campus climate."
A version of this article appeared in the Monday, April 28 print edition. Additional reporting by Ann Schmidt. Kavish Harjai is a news editor. Email them at [email protected].