Students go green for Earth Day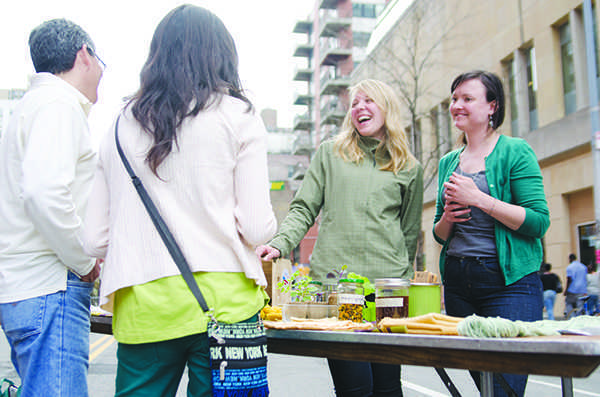 The 16th annual Earth Day Street Fair featured the largest number of student organizations in the fair's history, all while producing zero waste.
President of EarthMatters and master's student David Krantz said everything from the fair, held on LaGuardia Place between Bobst Library and the Kimmel Center for University Life on April 22, was recycled or composted, not thrown away.
At the fair, clubs set up tables with games and giveaways while the country's only solar-powered DJ, Chill Will, provided the soundtrack.
Gallatin junior Caitlin Rowles is the general manager of EarthMatters, which organizes the street fair every year. Rowles said Earth Day is especially exciting for environmentalists, but others can also enjoy the day.
"Your average NYU student walking around can get involved and see what is possible to do for the environment," Rowles said.
Organizations represented included the Environmental Studies Club, the Office of Sustainability and Take Back the Tap, a campaign to reduce the sale of plastic bottles of water and promote water-refilling stations around campus.
CAS junior and Cruelty Free NYU member Christina Nuñez said her club focuses on the relationship between eating habits and the environment.
"Our goals as a club are to promote awareness of the vegan [and] vegetarian lifestyle on campus, promote a plant-based diet and promote awareness, especially today, of the environmental impact of eating meat and eating dairy products," Nuñez said.
In an effort to reduce the negative impacts of food they eat, the Community Agriculture Club tends a garden in Washington Square Village. Steinhardt sophomore Kavya Simkhovich said in order to eliminate pesticides on food and transportation costs to the environment, urban gardening is the best solution.
"Direct farming is probably the most sustainable thing you can do," Simkhovich said.
Transfernation and the College Cohort Program's Service Committee tabled to help end unnecessary waste. Transfernation is a program that links events on campus with leftover food to organizations that can repurpose it to feed those in need. The Service Committee helped spread awareness of recycling and composting on campus and also manned the waste disposal sites.
Oxfam America, which is devoted to spreading awareness of global hunger, social justice, poverty and fair trade, also had a table at the fair. LS sophomore and member of Oxfam America Lila Carpenter helped organize the street fair.
"Earth Matters put a lot of work into organizing [the fair], and I think it was a huge success," Carpenter said. "It was a lot of fun and hopefully raised awareness about the importance of the environment and all the awesome clubs that work to make NYU more green."
A version of this article appeared in the Wednesday, April 23 print edition. Claire Scimeca is a staff writer. Email her at [email protected].