Advocates equate human, labor rights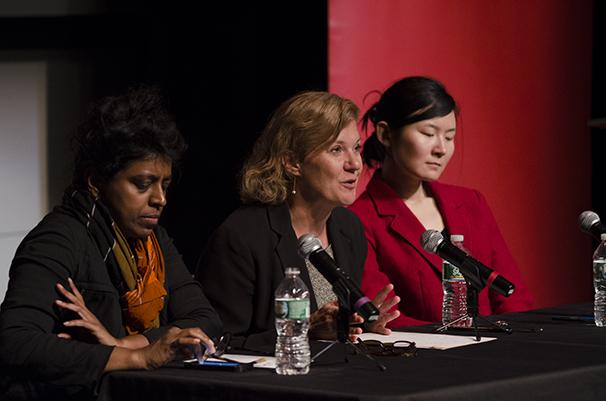 To Jo Becker, labor rights should be considered human rights and fought for with equal zeal.
Becker, advocacy director of the Children's Rights Division of Human Rights Watch, was joined by Gallatin professors Vasuki Nesiah and Chinnie Ding at NYU to discuss the relationship between labor and human rights on April 21 as a part of "Labor Rights as Human Rights."
Becker spoke about her organization's current efforts to work with tobacco companies to ensure that children are not working in dangerous conditions on tobacco plantations.
"She is a leader in the field," Nesiah said. "She has been influential in terms of actually shaping international human rights law, initially through the Child Soldiers Convention and now through the Domestic Workers Law, so that's actually changing the legal landscape globally."
Becker explained the three main groups responsible for ensuring human rights: governments, companies and human rights organizations. She said labor groups and human rights organizations often share common goals but do not agree on how to reach them.
"At the Human Rights Council, I'll often see dozens of [non-governmental organizations]," Becker said. "But when I and my colleagues go to the International Labor Organization, we're often the only NGO there."
Becker said human rights organizations can do more to ensure that labor rights are human rights by prioritizing the agendas.
She also celebrated some of Human Rights Watch's successes, such as pressuring the Russian government to fairly pay migrant construction workers brought in for the Sochi Olympics.
"The Human Rights Council at the [United Nations] covers so many issues, so whether you're working on torture or incarceration or freedom of expression … there's a place for you, whereas the ILO has a more narrow focus," Becker said.
At the event, CAS junior Leah Mlyn asked about the efforts being made to promote access to public services for migrant workers in the United States. Becker said child labor research done in the United States shows a diverse combination of migrants, children of migrants and U.S. citizens working in the fields.
Mlyn, a recipient of the Gallatin Global Fellowship for Human Rights, said it was interesting to hear Becker speak.
"I did get a good understanding of how Human Rights Watch conceptualizes their relationship between labor rights and human rights, and the overlaps and how those discourses work together," Mlyn said. "I got a nice broad review of how those discourses can work in conversation and got to meet Jo Becker who I have heard a lot about, and it was interesting to hear her speak."
A version of this article appeared in the Tuesday, April 22 print edition. Anjana Sreedhar is a staff writer. Email her at [email protected] 
*Correction: A previous version of this article misidentified Chinnie Ding as a doctoral student instead of a professor in Gallatin. 
WSN regrets the error.