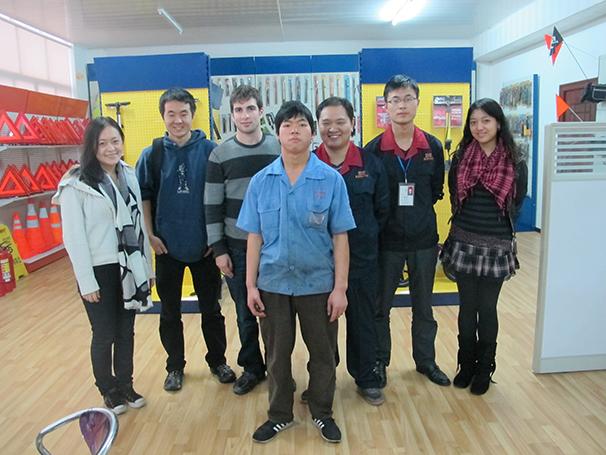 Steinhardt alumnus Drew Todrys recently made his way back into the nonprofit arena with the relaunch of Project Assembly Line, a nonprofit organization devoted to improving the lives of factory workers in developing countries and encouraging corporate social responsibility.
While taking graduate classes at George Washington University, Todrys created a 40-page business plan, built a website and networked for PAL which restarted in February. Todson, Inc., a company that produces bikes in China, joined PAL as a full-time partner and will help the organization expand. Todrys explained that this partnership means the company supports PAL's mission.
"I am still reaching out now for more connections, support, outreach and a steady fundraising stream and team going forward," Todrys said.
PAL originated in 2012 when Todrys was studying in Shanghai and saw a documentary about the struggles of migrant factory workers. He decided to take action by meeting with managers from two factories in China and interviewing the workers to determine their needs.
"Before in 2012 I had a vague idea what I wanted but had no idea how to implement it," Todrys said. "I knew I wanted to do it but needed more knowledge. That's where grad school helped me."
Stern alumna Ashley Zhang helped Todrys translate when he went to the factories.
"[The workers] asked us to please help them out whichever way we could," Zhang said. "After interviewing the workers, we had discussions with the workers' managers and the local labor union to see if there were other items that that they needed for the coming winter."
Now that PAL has been restarted, Todrys said the focus is on providing material assistance to workers.
"In the long run, we are aiming to develop educational workshops, long-term partnerships and advocacy programs on corporate social responsibility," Todrys said. "We never want to demonize the factories or corporations. We want to work alongside them."
SLAM member and Gallatin senior Caitlin MacLaren said students should pressure brands to negotiate with workers, which is why SLAM has been pushing NYU to only do business with brands that have signed worker safety agreements such as the Accord on Fire and Building Safety.
"While factory workers in places like Bangladesh undoubtedly have a hard time buying essential supplies, what workers need more than donations are unions," MacLaren said. "Workers should be empowered to organize, speak up and improve their wages and working conditions so they can buy the things they need."
Since PAL's restart, Todrys has been communicating with those who helped him in Shanghai, including Zhang. Although she has not been able to participate, she has stayed updated through Facebook.
"PAL has made a tremendous difference in the lives of people that it has touched, and I am definitely excited to seeing it grow," Zhang said.
Todrys does not see success as earning money, but instead as improving the quality of life for factory workers.
"Even if I fail, I will have no regrets because I gave it my all for them," Todrys said. "Hopefully, I will inspire others along the way to make their passion a reality and to help those in need."
A version of this article appeared in the Tuesday, April 22 print edition. Ann Schmidt is a news editor. Email her at [email protected]