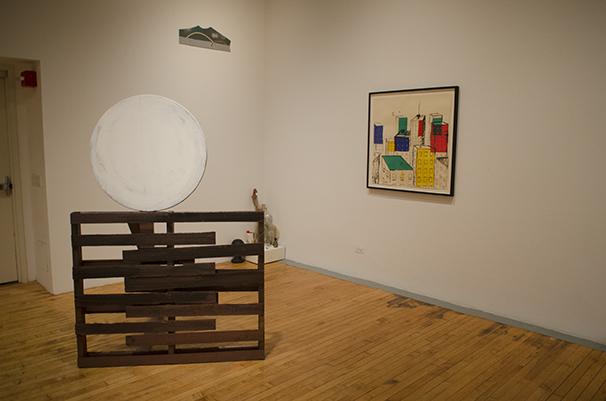 The NYU Grey Art Gallery opened their new exhibit, "Energy That Is All Around," featuring San Francisco street artists.
The artists are Chris Johanson, Margaret Kilgallen, Alicia McCarthy, Barry McGee and Ruby Neri. At Kimmel Center for University Life on April 15, Johanson, McCarthy, McGee, Neri and the curator Natasha Boas discussed the growth of the project and the motives behind their work.
"Energy That Is All Around" offers visitors a look at the unique aesthetics of street art from San Francisco during the late 1990s, focusing on rare pieces of artists who were a part of the Mission School movement. The graffiti promoted and represented a merge of street and studio, developing a style all of its own.
The artists' work is considered contemporary and evokes an unseen sense of both innovation and style, ultimately setting it apart from a typical representation of the street or graffiti artist.
Johanson began the panel discussion by presenting several images of his art from San Francisco. The first image he shared was of a sculpture he made of an assortment of chairs he found in New York.
"I found the chairs when I was going on walks across from Tompkins Square Park," Johanson said. "There were all these beautiful chairs that had such beautiful craftsmanship to them."
This installation was featured at an exhibit in San Francisco and encapsulates the unfinished appearance that is seen throughout the work of the Mission School artists. Johanson said this piece of his art reveals his preference for an anti-consumerist approach and offers viewers a sense of creativity .
Neri introduced her spray paint work and said she often painted on buidlings with McCarthy.
"Alicia and I met in San Francisco at the Art Institute and we used to open up bus shelters and other places and do our own graffiti," Neri said.
She shared an image of horses spray-painted onto the walls of river banks and abandoned buildings, a work of art they painted in 1994.
"It is a vacant building in San Francisco that I went into," Neri said. "A lot of buildings were being torn down at that time in preparation for residences so we utilized those spaces."
Both Neri and McCarthy displayed their work publicly throughout the streets of San Francisco while maintaining a distinguished style and perspective, bringing the studio aesthetics to the streets.
The exhibit is open through July 12 at the Grey Art Gallery located at 100 Washington Square East.
A version of this article appeared in the Thursday, April 17 print edition. Kate Marin is a staff writer. Email her at [email protected].