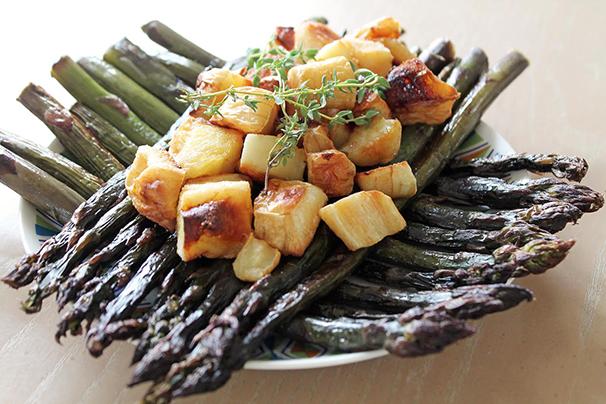 Take a sun-soaked stroll through the Union Square Greenmarket and you will notice an abundance of seasonal produce. The spring harvest offers an array of delicious fruits and vegetables that may not have been available during the New York winter. While slaving over the oven would be a waste of a warm day, seasonal meals can be prepared quickly and eaten al fresco.
Shopping seasonally can also be budget-friendly, as you will not face the added costs of importing produce from faraway growing regions. Ordinary vegetables often have more varieties, too. Asparagus can be found in green and purple, with April being peak season for both. Purple asparagus, rich in vitamins A and E, is a fun way to add some color to your plate.
Stop at a local grower's booth and you will find bunches of fresh asparagus stalks for a steal. You might also notice a white, carrot-like vegetable on display. The parsnip is a root vegetable known for its creamy texture and sweet taste. While these cousins of the carrot are typically grown in the fall, they have an even sweeter flavor in the spring after the winter frost has converted their starch to sugar. Unlike carrots, parsnips must be cooked before they can be enjoyed. Roasting them along with asparagus adds a rustic quality that complements this light and tasty spring dish. Add one or two extra parsnips to make this a hearty meal, or simply share it with friends as a healthy side.
Ingredients
•    1 large parsnip
•    1 small bunch of purple  asparagus
•    1-2 tablespoons of extra virgin olive oil
•    Fresh herbs
•    Sea salt (optional)
Directions
1. Start by preheating your oven to 375 degrees and lining a baking tray with tin foil.
2. Rinse the parsnip and asparagus in cool water, removing any dirt. Using a large knife, chop the parsnip into cubes by slicing horizontally and then halving the resulting chunks.
3. Place the parsnip and asparagus on the baking tray and drizzle with olive oil, being sure to thinly coat each cube and stalk. Sprinkle with sea salt if desired.
4. Once the oven has preheated, place the baking tray inside and let the vegetables begin to roast. After 30 minutes, stir the pieces around to prevent one side from burning. Allow the parsnip to slightly char around the edges for a richer roasted flavor. After another 20 minutes, check the vegetables by piercing them with a fork. The asparagus should be nice and tender while the parsnips should be soft and easily punctured.
5. When ready, remove the baking tray and allow it to cool off for a few minutes.
6. Plate the dish by placing eight to 10 stalks of asparagus on a plate and layering the rest on top with their tips pointing perpendicularly. Toss the parsnip cubes over the bed of asparagus and garnish with fresh herbs such as thyme or rosemary. Pour yourself a drink and toast to spring.
A version of this article appeared in the Tuesday, April 15th print edition. Lindsay Leboyer is a contributing writer. Email her at [email protected]