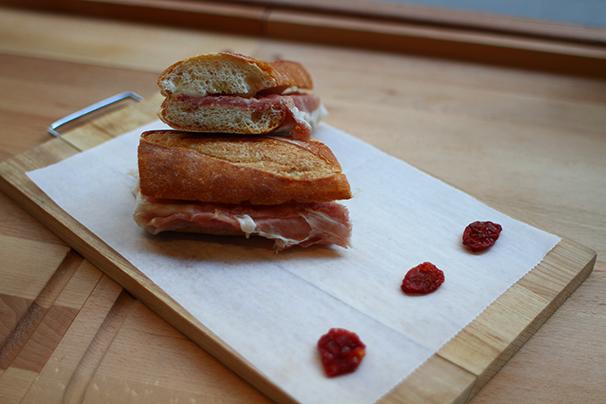 ar located at 1 W. Eighth St., offers customers delicious and authentic Italian cuisine. During its first month open, the quaint and welcoming restaurant has received excellent reviews from its customers.
If you are near campus and in the mood for outstanding Italian food, La Panineria has a wide variety of dishes to offer, from freshly grilled sandwiches to Nutella croissants. Almost all of the food is made onsite, with ingredients imported directly from Italy. The small but diverse assortment of groceries lining the shelves allows customers to bring the taste of Italy home, even after a meal at La Panineria's Italian kitchen.
La Panineria began as the dream of its owner, Mario Pesce, who aspired to bring the freshest Italian food to New York.
"Everything you see here, the art and groceries, every single detail was in my mind," Pesce said. "We did all the renovations ourselves, so the shop is very personalized in that way."
Pesce said the space has become what he imagined it would be and he proudly welcomes guests. His love for both the food he makes and the space he has established is evident, which makes La Panineria a relatable and welcoming environment.
Although La Panineria is best known for its paninis, its menu does not fall short in other categories. Minestrone soup with baked bread ($5) and an assortment of cheese and cured meat boards ($12-$16) are a few of their other stand-out menu items. La Panineria's best-selling sandwich, the Alba panini ($10), is piled high with thinly sliced prosciutto and melted fontina cheese on either a wheat baguette or ciabatta bread. The salty taste of the prosciutto is complemented by a hint of truffle oil.
Pesce prides himself on the authenticity of his restaurant and the groceries it has available for sale.
"Everything you see here is imported from Italy, from the grocery to the meat and cheese," Pesce said. "The mozzarella is flown in three times a week. The only thing we buy in New York is the bread, and it is one of the best you can find here."
Pesce's passion for fresh ingredients and high-quality cuisine is one of the unique aspects of this restaurant. He incorporates Italian culture into every corner of his establishment, from the food itself to the art that lines the walls. Even the croissants are assembled in Italy, shipped and baked fresh onsite each morning. In doing so, La Panineria closes the gap between the average New Yorker and Italy.
La Panineria is now open at 1 W. Eighth St., between Fifth and Sixth avenues.
A version of this article appeared in the April 15th print edition. Kate Marin is a staff writer. Email her at [email protected]