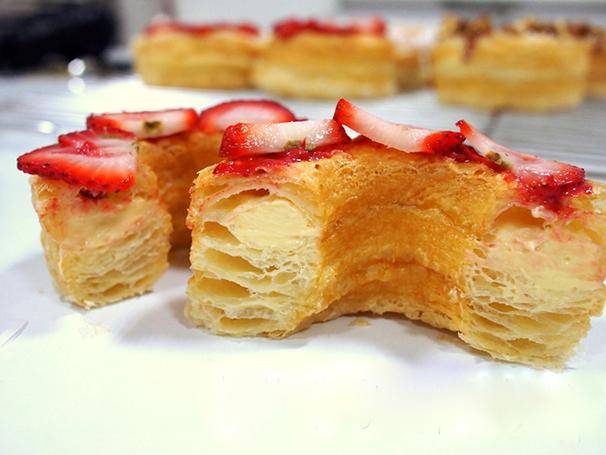 Though SoHo's Dominique Ansel Bakery is famous for the Cronut, as well as other extravagant creations such as the newly released chocolate chip cookie shot, the bakery was in the public eye for an entirely different reason last week, after being shut down because of an infestation of mice.
Many New Yorkers and people across the country are familiar with the name Dominique Ansel. Ansel is a pastry chef who garnered acclaim for the creation of the unique hybrid between a croissant and a doughnut — the Cronut. The Cronut has gained a cult-like following, with hungry customers lining up hours before the bakery opens its doors to snag one of only 300 that are sold per day. Cronuts cost $5 each and change flavors every month.
Though the bakery touted an A health rating in its window, it had previously dealt with problems with mice, with the New York City Department of Health citing evidence of vermin. The bakery drew the attention of the health department back to its kitchen when a customer posted a video on the Internet showing a mouse scurrying across the bakery's floor. The health department quickly reacted to the problem and temporarily closed the bakery due to "a severe mouse infestation" and "several hundred mouse droppings."
Ansel, a superstar in the foodie world, reacted quickly to the fiasco. Ansel issued a public letter in which he apologized to his customers for any disappointment, but also claimed that he and his team were victims of "sensationalist attacks that are not framed in the proper context." The letter also stated that, "In the past year, we have woken up daily knowing that our success has made us vulnerable to more malicious attacks than any small, one-shop business should ever have to suffer."
The letter offered customers assurance that the issue has been taken seriously, but also urged customers to "seek deeper details and answers before jumping to conclusions." Though the bakery wrote an apology, it by no means took all the blame.
The infestation clearly has not deterred Cronut fans, as the SoHo bakery saw the return of its early morning long lines when the bakery reopened its doors on April 8, just three days after its closure the previous Friday. The bakery featured a special edition Rocky Cronut to celebrate the reopening and to represent the bakery's resilience. The Rocky Cronut was a one-day special that came topped with an edible gold star and featured April's flavor, passion fruit caramelia chocolate.
The bakery also posted a picture of the entire staff on Facebook, showing the group celebrating the reopening. The reopening drew returning Cronut devotees as well as first time customers, signaling that Dominique Ansel Bakery's popularity will continue despite recent issues.
A version of this article appeared in the Tuesday, April 15th print edition. Rebecca Riddle is a staff writer. Email her at [email protected]