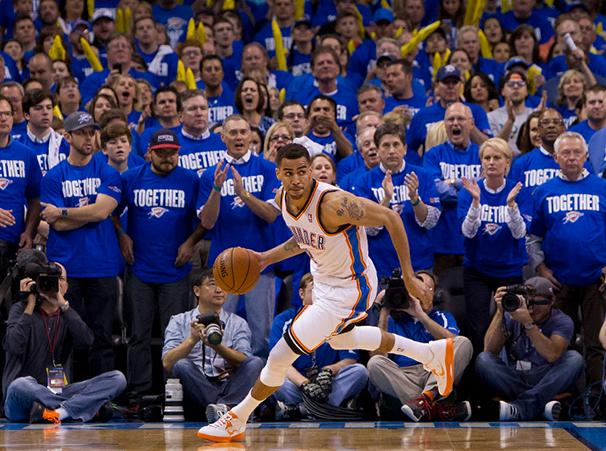 When the Indiana Pacers acquired forwards Luis Scola and Chris Copeland following their Game seven loss to eventual NBA champion Miami Heat in the Eastern Conference finals, they appeared poised to once again challenge Miami for a trip to the NBA's championship series in 2014.
Early in the season, they appeared ready to do just that. Paul George began playing the best basketball of his young career, and whispers were heard around the NBA of a new MVP to dethrone LeBron James. The Pacers rocketed to a 33-7 start to their 2014 campaign and were 40-12 at the All-Star break in February with no one in the Eastern Conference standing in their way.
However Indiana has gone only 15-14 since All-Star weekend. The team is plagued by locker room infighting following the controversial cutting of franchise stalwart Danny Granger in favor of former Philadelphia 76er Evan Turner. With the postseason fast approaching, the Pacers are far from the favorites to hoist the O'Brien Trophy in June as long as on-court chemistry eludes them.
With George looking vulnerable, the Heat may seize the opportunity to make yet another trip to the Finals, hoping to become the first team since Larry Bird's Boston Celtics to attain four straight conference championships. It will be hard to bet against LeBron James, surrounded by his core of Dwyane Wade and Chris Bosh. The Heat's star power may just overwhelm the egalitarian Pacers.
Out West, the Oklahoma City Thunder and the San Antonio Spurs appear ready to meet in the Western Finals once again in a rematch of their 2012 meeting in which the Thunder emerged victorious in six games. Kevin Durant has emerged as the league's leading candidate for MVP, retaining his scoring title and remaking himself as a clutch player as well. With point guard Russell Westbrook finally healthy and Serge Ibaka and Kendrick Perkins in the frontcourt, the Thunder will be bringing their own brand of firepower to the postseason.
Meanwhile, the Spurs sport veteran leadership from battle-tested Tony Parker and ageless big man Tim Duncan. Despite being swept by the Thunder in the season series, the Spurs have shown time and time again that age is merely a number. Peaking at the right time, the Spurs appear almost unstoppable with a rematch against the Heat and a desire for revenge after last June's Game Seven Loss in Miami looming on the horizon.
Lost in the excitement of the playoffs are the teams already on vacation. For the first time in NBA history, the Celtics, Lakers and Knicks will all miss the postseason. This early ending has been especially troubling for New York who was an inirially  a to repeat as Atlantic Division champions. The Knicks and their beleaguered fan-base will be left to endure their 41st season without an NBA Championship.
A version of this article appeared in the Monday, April 14 print edition. Charles Surette is a contributing writer. Email him at [email protected]