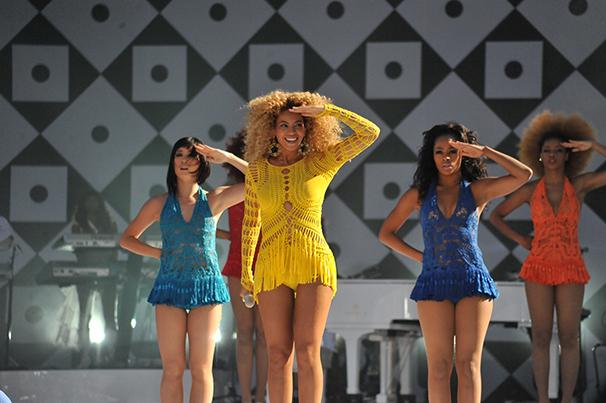 The popular understanding of what makes a diva has evolved over time. The term originated in the opera world, where it referred only to singers with extraordinary talent and public appeal. In the 1980s, however, the term began to refer to super-talented female pop vocalists like Aretha Franklin, Whitney Houston, Tina Turner and Celine Dion.
Today, diva status is ubiquitously applied to well-marketed pop performers with strong personalities, and, to the ire of many, it is used as a stand-in word for "bossy." As Sarah Silverman puts it in a YouTube music video for an original song titled "Diva," "If you call yourself a diva/you better be a singer/and not somebody cutting me in line."
Silverman's comments assert that the word diva should not be used lightly, but only in a specific context — when a singer has exhibited outstanding talent, received years of training and amassed a large following.
In a recent interview, living legend Patti LaBelle echoed this sentiment and protested what she said is an overuse of the term.
"That word is used so loosely that I don't even consider myself a diva," LaBelle said. "I always considered myself a woman who sings her heart out and who gives 120 percent. 'Diva' is a word that I wouldn't wanna call myself because it's so loosely used."
Of the contemporary singers deemed divas today, Beyoncé, Mary J. Blige and Christina Aguilera approach the original definition — or at least LaBelle's — most closely.
Pop performers like Miley Cyrus, Britney Spears, Katy Perry and Rihanna, however, are not divas in the definition once used for opera singers. They only bring one half of the original equation — celebrity. Charismatic and compelling as their personas may be, the production behind their tracks is what makes their music good, not their vocal talent.
With the rising popularity of these so-called divas, there has been a change in how the public conceptualizes the term.
With the advances in music technology, music production has reached the point where mediocre or even dreadful voices can be made to sound immaculate. Paris Hilton, Tila Tequila and various Real Housewives are by no means comparable to Liberace, but their fame has allowed each to release successful over-produced singles.
The second obvious change in decades past is the renewed emphasis on persona that social media has brought. Rihanna continues to spark controversy and conversation on Instagram and Twitter, though her live singing voice is lackluster. People listen to a Rihanna track with her latest "selfie-with-blunt" in mind, more invested in her weed and party references than her songs.
Unlike the music of LaBelle or Franklin, the work of modern divas places little emphasis on the vocals. Whether one agrees that the term should be used sparingly, it is hard to deny that the current pop culture is very different than that of LaBelle's heyday. Diva may not mean what it used to, but this change is only natural.
A version of this article appeared in the Thursday, April 10 print edition. Hayley Sadoff is a contributing writer. Email her at [email protected]