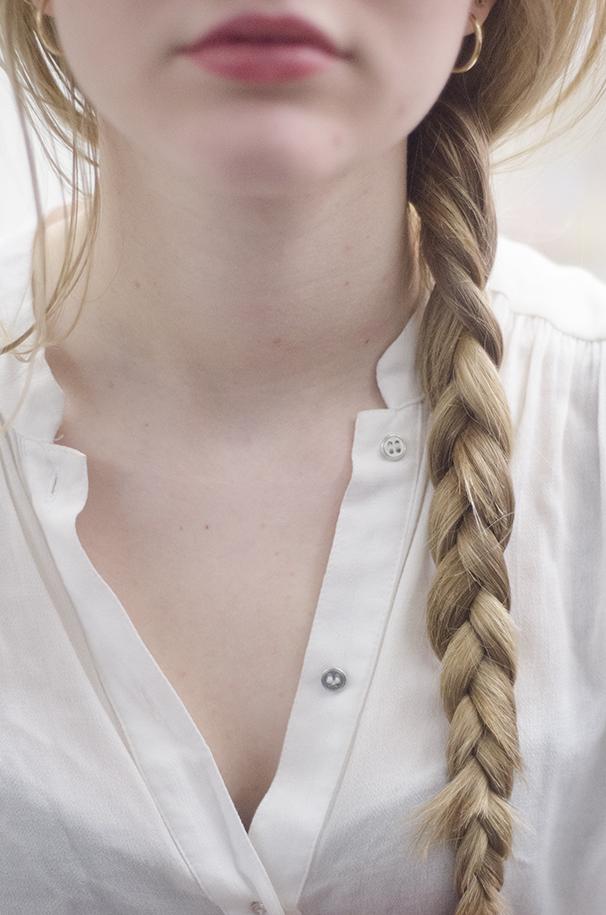 April showers may bring May flowers, but they can also bring about a slew of beauty-related frustrations such as frizzy hair, oily skin and smudged makeup. Though nothing can be done about the weather, there are products and tricks to help you look your best even when nature is at its worst.
The humidity that comes along with rainy weather can cause a bad hair day. Hair is made up of keratin proteins and, when it rains, the keratin soaks up extra moisture and expands, causing hair to become unmanageable and frizzy. Luckily, there are many products specially formulated to combat frizz. Garnier Fructis' Anti-Humidity Smoothing Milk is an affordable option that tames your hair without leaving it greasy or weighed-down ($3.50). In addition to using the right products, wearing your hair in weather-appropriate styles can help keep your locks under control.
LS freshman Lily Remmert wears baseball hats and ponytails when the weather is dreary, which she said helps keep her hair dry on windy days.
"I know nothing about hair products and hats are a good way to protect your hair from foul weather, especially if it's cold or rainy," Remmert said.
Simple braids or buns are stylish options that will not be ruined as soon as you walk out the door.
Oily skin is another rain-related nuisance, especially for people who already have oil-prone skin.
Tisch freshman Claire Lilley said she typically switches from foundation to BB cream on rainy days. BB cream weighs less than regular foundation, and is therefore less likely to clog pores and encourage oiliness.
Another step that can be taken to keep your skin shine-free is to carry oil-absorbing papers to refresh your skin throughout the day. Clean & Clear Oil Absorbing Sheets ($5) are a staple that will revitalize your skin while leaving your makeup fully intact. Setting your makeup with an anti-shine powder, such as Rimmel's Stay Matte Pressed Powder ($5), can also help your skin win the battle against weather.
No one wants to show up to class with smeared makeup, but having to walk to class when it is pouring can make keeping makeup smudge-free a challenging task.
CAS freshman Vanessa Haughton has a go-to lip product for rainy days.
"I use Revlon's Matte Lip Crayons because they don't come off in a torrential downpour," Haughton said.
Revlon's ColorBurst Matte Balm ($9) is long-lasting and retractable, so no sharpening is required. It is moisturizing because the formula contains mango, shea and coconut butter. With spring well on its way, try a light and girly shade such as coral or light pink to remind you that the drizzly weather is only temporary. Waterproof eyeliner and mascara are also rainy day essentials, especially on days when the wind is strong and your umbrella cannot keep the water our of your face.
A version of this article appeared in the Wednesday, April 9 print edition. Rebecca Riddle is a staff writer. Email her at [email protected].