Town hall provides details on student life, services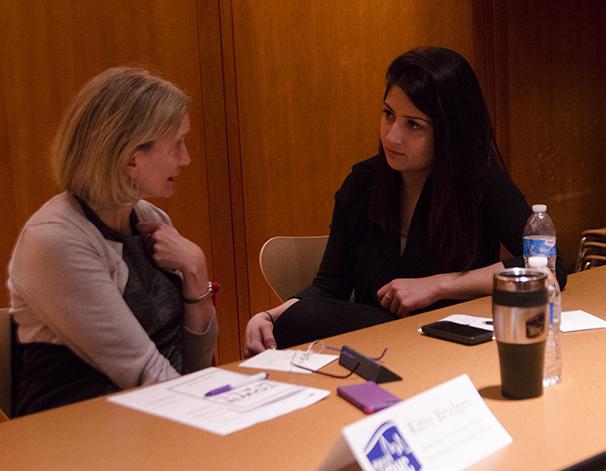 The NYU Inter-Residence Hall Council held a town hall meeting on April 8 to answer questions concerning student life and services.
The town hall allowed students to speak with representatives from residential life, sustainability, public safety and dining, among other departments. Panelists were given three minutes to respond to specific questions students submitted prior to the town hall meeting.
Randy Stephan, vice president of Global Security, answered questions concerning Public Safety's plans to navigate the merger between NYU and the Polytechnic School of Engineering, as well as the addition of the Affinia Hotels.
"We've added transportation services to run a route directly [from] the School of Engineering to Washington Square," Stephan said. "We've also provided additional security resources to the School of Engineering."
Stephan went on to say SafeRide is available at any NYU building and will expand to include the Affinia Hotels this fall.
"As long as there are students inside [Affinia] … we will provide SafeRide during the same hours for those students," Stephan said.
Neil Hanrahan, senior director of Housing Services, addressed the renovation of Hayden residence hall. Hanrahan explained that the unmet demand for freshman housing created by the closure will be offset by the addition of University residence hall as a freshman-only dorm.
Kitty Bridges, associate vice president and deputy chief  of Information Technology officer, answered questions about NYU's Information Technology services. Bridges said class registration would undergo changes in the coming months as Albert will be going mobile in the fall.
Ozgem Ornektekin, the director of the Office of Sustainability, responded to a question regarding the rules of NYU's recycling process.
"Everything except food, liquid and styrofoam goes into the recycling bin," Ornektekin said. "At NYU we do not have styrofoam anywhere. I have to applaud NYU Dining and Aramark for convincing Dunkin' Donuts not to have Styrofoam."
This means that leftover liquids must be emptied prior to placing bottles in the recycling bins. In dining halls, the same rules apply. Almost all of the dining halls except for Palladium food court have composting. Ornektekin said all foods and organic materials like paper and napkins can be composted.
Owen Moore, assistant vice president of Operations and Business Development, sent a statement regarding NYU Dining's plan to handle the closure of Hayden's dining hall. Palladium food court will once more be open for breakfast and lunch starting in the fall. Production of Hayden's famous cookies will continue on the second floor of the Kimmel Center for University Life.
CAS senior Alyssa Cosentino said she was pleased to see how receptive NYU's staff members were to responding to questions.
"It's so great that all these NYU staff members could come to town hall, answer our questions and be very open and transparent," Cosentino said. "I'm very excited about the things that are going to be happening here."
A version of this article appeared in the Wednesday, April 9 print edition. Valentina Duque Bojanini is a deputy editor. Email her at [email protected].