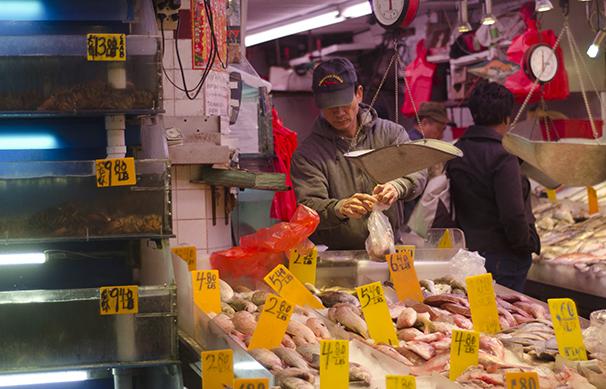 The New York City Department of Health and Mental Hygiene announced that a skin infection is spreading through raw fish contaminated with Mycobacterium marinum in Chinatowns across Manhattan, Brooklyn and Queens.
Thirty cases of the infection were reported in March. Since April 2, that number has risen to 66.
The health department warned that the bacterium enters through wounds in the skin and that those who handle fish in Chinatown should wear gloves to prevent infection. However, no risk is associated with eating the fish.
"Symptoms of M. marinum include red, tender swelling under the skin of the hands and arms, hand or arm pain and difficulty moving fingers," the press release said.
If left untreated, the infection can require surgery to be cured.
Environmental studies professor Jennifer Jacquet, who researches fisheries and marine conservation, said she suspects irresponsible fish farming is the cause.
"It's another one of a long series of problems in [seafood] imports from Asia," Jacquet said.
Asia has a long history of exporting contaminated seafood. Examples include fish contaminated with formaldehyde or flame retardants. Some fish farms even overlap with sites of human waste disposal.
Steinhardt sophomore Alejandra Bandler, who studies global public health, said she was surprised by the lack of concern about the infection.
"I find it alarming that the number of cases has doubled over the course of a month," Bandler said. "It makes one question the measures the [Food and Drug Administration] and other public health agencies are taking to address the problem. It seems as if this outbreak isn't a top priority when it should be."
Steinhardt sophomore Calvin Lord lives in Lafayette residence hall and shops at a nearby supermarket in Chinatown.
"I hate to generalize, but I rarely see good health practices where I shop, and it's concerning to hear about how this could spread," Lord said. "I'm certainly going to see how the story evolves before making another trip."
Jacquet said more measures need to be taken for health and safety.
"This speaks to the need for more seafood testing," Jacquet said. "Less than 1 percent of seafood imports are tested [in the United States], compared to Europe where they test 20 to 40 percent."
Jacquet takes a broader approach to her environmental and health concerns over seafood. To her, the outbreak sends a clear message.
"This is why you shouldn't eat seafood," Jacquet said.
A version of this article appeared in the Wednesday, April 9 print edition. Claire Scimeca is a contributing writer. Email her at [email protected].