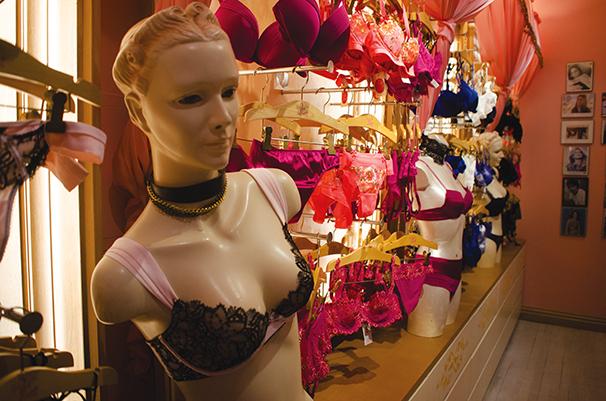 There is a popular belief among French people that one should dress from the inside out, meaning one's lingerie should be a top priority when getting dressed, coming before the other garments of one's outfit.
The truth is that a solid, well-fitting bra can do wonders for the rest of the ensemble. Making sure a bra fits can be a complicated process, but  women should prioritize their own comfort and confidence.
While chain lingerie stores tend to have step-by-step processes to  discover the customer's bra size, more intimate local shops, such as La Petite Coquette, which is on University Place and 10th Street, can be better for receiving more individual assistance.
After ensuring their comfort level, the saleswoman will physically adjust the customer in order to visually assess which size bra is appropriate. Saleswoman at  La Petite Coquette,  Maria Torres said she never uses measuring tapes because the customer will not receive a correct reading.
"It's never accurate because [measuring tapes] tell you one thing and you end up spilling out," Torres said.
Torres said different styles of bras constitute different sizes.  In other words, a woman who is traditionally a 34D in a push-up bra may be a 32C in a T-shirt bra.
In order to avoid this confusion, it is best to approach each bra differently, being fitted for each style without a preconceived size in mind.
After an employee decides which size the customer needs, she brings a basic bra and advises the customer about which hook to use.
Next, the sales associate instructs the customer to pull her breasts forward and pull the underwire backward into the armpit area.
One rule to keep in mind is that one should wear a new bra on the loosest hook for a period of time before using the middle hook and finally the tightest hook.  As the bra expands through the wear-and-tear process, it will feel brand new for a longer time if one adjusts the hook this way.
The back of the bra, where the hooks are located, should support 90 percent of the weight the bra is supporting, and the strap should support only 10 percent.
Make sure to avoid what is known as the seesaw effect, which occurs when one is wearing the wrong bra size and and tries to adjust the bra by tightening the straps, only making the back of the bra ride up.
Remember that a good bra should look and feel the same when one puts it on in the morning and when they take it off at night. Nothing should have shifted or moved during the day. Finding a good, reliable bra can elongate a torso and portray a confident, lifted look.
A version of this article appeared in the Wednesday, April 9 print edition. Maggie O'Neill is a staff writer. Email her at [email protected].