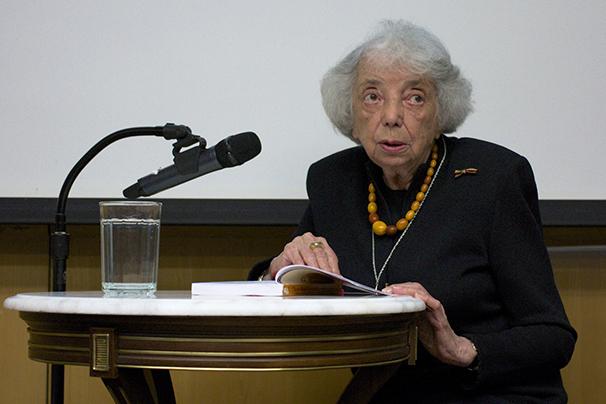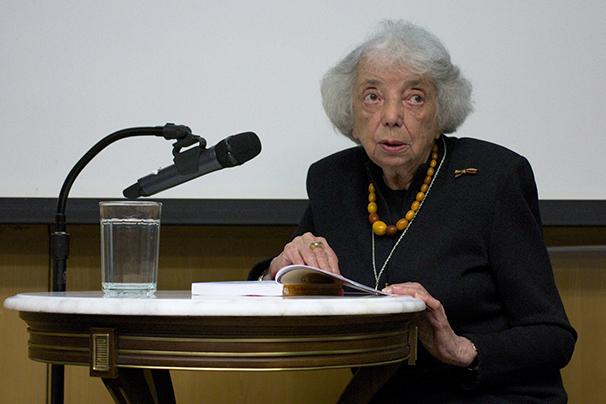 Margot Friedlander, a Holocaust survivor, visited a packed NYU's Deutsches Haus on April 7. Friedlander — dressed entirely in black with an amber necklace that once belonged to her mother — read an excerpt from her memoir, "Try to Make Your Life."
The event also featured a screening of a documentary about Friedlander's life, directed by noted German filmmaker Thomas Halaczinsky.
Friedlander was 21 years old when she returned home to find out that the Gestapo had taken her family. Her mother left behind her handbag with the amber necklace inside, as well as a message for her daughter, repeated by a neighbor whom she had never met before — "try to make your life."
"They were the last words from my mother, delivered by a stranger," Friedlander read aloud from her book at the event. She told the audience that she started writing the book by hand in English and later switched to German.
Friedlander spent 13 months in hiding, moving around with the aid of 16 different people from an underground network. She was confronted by the Gestapo three times and was eventually sent to a labor camp in former Czechoslovakia, where she met and married her husband. They immigrated to New York in 1947, swearing they would never return to Germany. But just four years ago, Friedlander moved back to Berlin permanently.
After her husband passed away in 1997, Friedlander began taking a writing class at the 92nd Street Y, where her husband had formerly worked. There, she met Halaczinsky, who overheard her read an excerpt of her soon-to-be book and eventually approached her about producing a documentary on her life.
"It's a story of awakening," Halaczinsky said at the event, adding that Friedlander was initially shy because it was the first time she spoke about her past. "It took her a while to open up."
His first film on Friedlander, "Don't Call it Heimweh," premiered in 2004, and his follow-up film, "A Long Way Home," — which followed Friedlander on her move back to Berlin — premiered in 2010. The latter was shown at the event.
Petrina Engelke, the New York-based German journalist who led the discussion, said Friedlander was a great subject to interview because she was willing to answer any question.
"Talking to her was very interesting for me," Engelke said.
Friedlander will stay in the United States for about three weeks. She said she plans to travel to Washington, D.C., to read in two schools and sign books at the U.S. Holocaust Memorial Museum and then return to New York to celebrate Passover with friends.
Friedlander said although she is keeping busy in the United States, it was still difficult to return and she is looking forward to returning to Berlin.
"I'm very busy and it's very exciting, but its very hard for me and very emotional," she said.
Julianne McShane is a staff writer. Email her at [email protected].
*Correction: A previous version of this article stated that Friedlander's husband passed away in 2003. He passed away in 1997. Additionally, Friedlander will sign books at the U.S. Holocaust Memorial Museum, not the Jewish Museum.
WSN regrets the errors.