Writers, publishing professionals provide glimpse into industry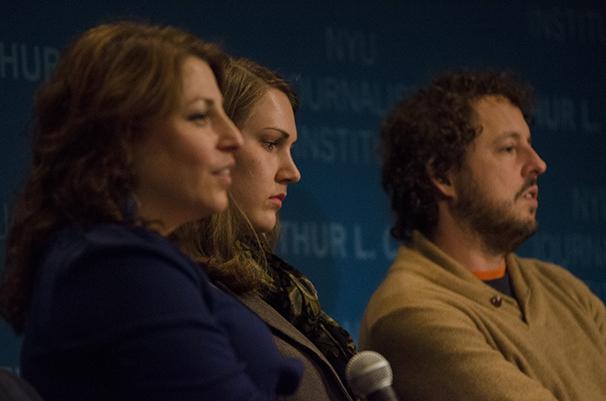 The NYU Arthur L. Carter Journalism Institute hosted a panel about writing on April 7 to give students a glimpse into the publishing industry.
Organized with the Wasserman Center for Career Development and the Creative Writing Program, "All About Books" featured four industry professionals who shared their advice for aspiring writers seeking to break into the industry.
NYU creative writing professor and panelist Saïd Sayrafiezadeh said the best way to approach the publishing industry is to start small.
"We all want to write books, but it's okay to start small," Sayrafiezadeh said. "It is OK to be published in very small things because they can lead to larger things."
Julie Trelstad, Digital Rights director at Writers House, said the key to her success was her unique area of expertise.
"I was an expert in architecture, and I was also an expert in technology," Trelstad said. "I had more than one instance where someone would call me and hire me on the spot because I was the only one who had that tiny, extremely specific piece of qualifications."
Literary Agent and Gallatin alumna Molly Reese-Lerner said networking is important for anyone who hopes to have his work published.
"We receive probably between 350 and 450 submissions per month," Reese-Lerner said. "We give priority to anything that comes in via referral because if we have a client whose taste we obviously trust and like."
Although dealing with rejection from agents and publishing companies can be an emotional experience, author and alumnus of NYU's graduate journalism program Allen Salkin said the way to deal with rejection is to improve.
"My only advice is to get angry and then get better," Salkin said.
Salkin added that there are more opportunities now than ever, and writers have to be patient.
"These businesses take a long time to break into, and the longer you can survive and stick around [to] perfect your craft, the better," Salkin said.
Gallatin senior Eric Kenny said the panel made him think about writing for a smaller audience as a way to break into the market.
"The most important thing is to know your audience and know what you are passionate about and how you can apply that to an audience, like a niche market or something small," Kenny said.
A version of this article appeared in the Tuesday, April 8 print edition. Valentina Duque Bojanini is a deputy news editor. Email her at [email protected] 
*Correction: A previous version of this article omitted the Creative Writing Program, which also sponsored the event. 
WSN regrets the error.