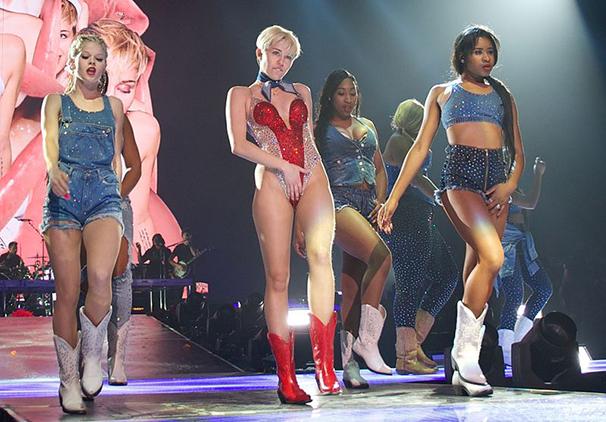 Several months ago, during one of the most-discussed performances of recent memory, Miley Cyrus twerked in Brooklyn at the Barclays Center at MTV's Video Music Awards, relinquishing her Disney reputation and solidifying her new persona.
On April 5, Cyrus appeared in Brooklyn once again. But this time, she was dealing with another life transition — trying to overcome the death of her dog, Floyd. Brooklyn provided the support Cyrus needed at the "Bangerz Tour" stop.
No stranger to shock appeal, Cyrus demanded the audience's attention during her entrance, when she slid down a slide shaped like a tongue. Recognizing that the last time she was on that stage was during the VMAs, Cyrus laughed as she entered.
"This place looks familiar," she said. "I'm surprised you let me come back."
After making her entrance, she performed "SMS (Bangerz)" dressed head to toe in a two-piece red-and-white ensemble, while accompanied by a series of life-sized stuffed animals.
Cyrus' show, on average, consists of 10 outfit changes. Easily recognizable is the sparkling American flag one-piece she sports during the finale of "Party in the U.S.A." Cyrus wears furry zebra-striped pants during "Can't Be Tamed" and a yellow fur jacket during "Someone Else" while she rides a hot dog that floats above the crowd. Watching Cyrus, it is easy to see that every article of clothing has been clearly and shrewdly chosen.
Cyrus' show appeals to a predominantly female, college-aged audience, thanks to performances of songs like "23" and "Love, Money, Party" — during which Cyrus sports a pot leaf-print leotard, while standing on a car and basking in money.
However, in Brooklyn, the tour seemed to remind Cyrus and her audience of the power music has to heal, especially during the acoustic portion. Despite Cyrus' well-documented antics, she has shown that she is human, especially when she was mourning the death of her pet and speaking of her misery.
During the acoustic set, where she performed covers of Lana Del Rey's "Summertime Sadness," Dolly Parton's "Jolene," Bob Dylan's "You're Gonna Make Me Lonesome When You Go" and an original, "Rooting For My Baby," Cyrus acknowledged that the Barclays' crowd was responsible for the "first genuine smile" she has had this week.
The "Bangerz Tour" provides an environment for audience members to be jovial and to relieve themselves of heartache with performances of powerful ballads like "Wrecking Ball" and "Drive." But in Brooklyn on Saturday night, the tour also showcased that music can be a balm in times of hardship, even for the singer herself.
Whether you are attempting to mend a broken heart, seeking an enjoyable night out with friends or mourning a loss, the "Bangerz Tour" provides the perfect atmosphere to enjoy music, let go your difficulties and relish in a terrific party.
A version of this article appeared in the Tuesday, April 8 print edition. Alexa Spieler is a staff writer. Email her at [email protected]