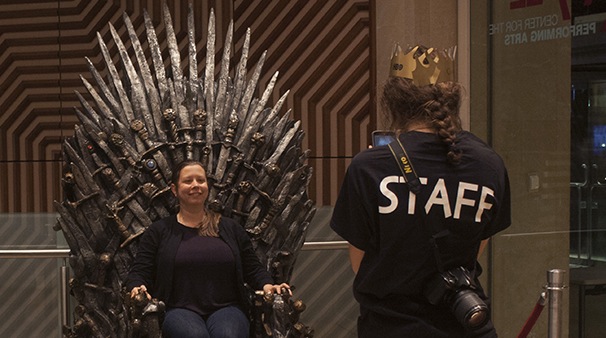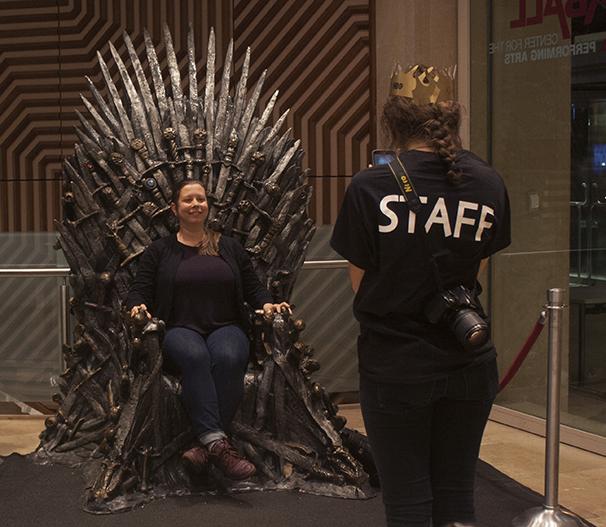 Days before its much-anticipated release, the "Game of Thrones" season four premiere screened at the Skirball Center for the Performing Arts on April 2. The screening was packed, with an entrance line of dedicated fans that extended around the block.
Many students waited in line for the premiere for several hours outside of Skirball, passing the time by sharing their excitement over social media and using a special "Game of Thrones" hashtag.
"It's been about a year since we've seen the show, so we're pretty pumped," Poly sophomore Christian July said.
In addition to the exclusive premiere screening, event attendees were treated to DVD giveaways, show trivia and exclusive photo opportunities with props from the show, including the iconic Iron Throne. Roberta Cutillo, a Program Board member and LS freshman, said she was impressed with the large turnout at the event and the enthusiasm of the attendees.
"It was really successful," Cutillo said. "It's a really popular show, and because we got it before the release of the fourth season it helped [the turnout] a lot."
The dramatic fantasy series, based on the books by George R.R. Martin, has received attention for its dedicated and passionate fan base, a large portion of whom are college students. "Game of Thrones" is known for its cliffhangers and the frequent, often violent, deaths of favorite characters, so fans were eagerly awaiting for the premiere to resolve many of the unanswered questions from the third season.
"I think the storyline itself is great, but also you really get attached to the characters, and they're not afraid to kill them off," July said.
Many students, such as Steinhardt junior Megan Dan, were excited to see the premiere of season four in a theater and to have the chance to bond with other die-hard fans of the show.
"I love that we got to see it in such a big audience," Dan said. "I've never watched an episode of anything with such a big crowd. I wish they would do this more with a lot more shows."
The popularity of "Game of Thrones" seems to be indicative of a bigger trend found on college campuses today — students are often eager to share their new pop culture obsessions, in the form of a television show, book series or band, and they quickly gains popularity across campus. There are certain qualities present in "Game of Thrones" that many of these trends seem to share.
"It's got the sex, the setting, the beauty, it's got everything," July said. "It's not afraid to push the limits."
As for the premiere screening, the end of the episode was met with loud cheers and a roaring wave of applause. Fans left Skirball with new "Game of Thrones" merchandise and high hopes for the upcoming season, which will premiere on HBO at 9 p.m.
A version of this article appeared in the Thursday, April 3 print edition. Bailey Evans is a staff writer. Email her at [email protected]