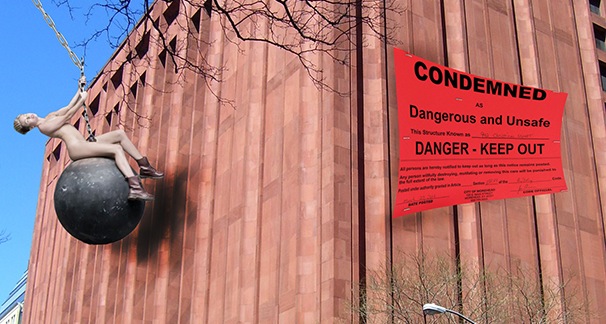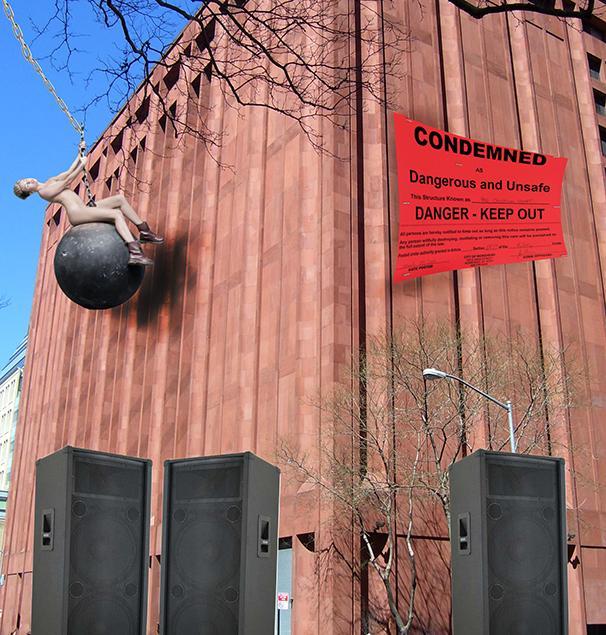 Angry students and NYU faculty are hosting a benefit concert on April 2 to raise enough money to demolish Bobst Library after a particularly brutal midterm season.
The concert will take place in the middle of Washington Square Park in the project known as Bye Bye Bobsty.
Oliver Oken, lead organizer and Gallatin sophomore, said they want to demolish Bobst to take a stand against the horror that students underwent while studying for midterms.
"We think NYU needs to reconsider the stress they pile on to students," Oken said. "We want to demolish Bobst because it is a physical manifestation of sadness which becomes obvious through audible cries heard through the myriad of stacks in the library during midterm and final season."
Miley Cyrus will be the main act, and an anonymous student organizer said she may be entering on a wrecking ball.
"[To be honest], I think everyone wants to see the 'Wrecking Ball' music video [in real life]," the student said in a Snapchat. "[Tomorrow] will be a [great] way for students to [see] their [favorite] star in action. [Please] attend. [Laugh out loud]."
The anonymous student said Cyrus will be sexually licking a hardware tool and destroying a 500-square foot paper mache model of Bobst.
Cyrus' press contact Bucky Kentucky said Cyrus is not necessarily performing for the students.
"Miley enjoys large, organized events featuring lewd themes," Kentucky said. "She just wants to lick inanimate objects."
Gallatin senior Lilly Truscott said she is excited to see the NYU community taking a definitive stand against the injustices of midterm season.
"I can't wait to see my fellow students organize around such a pressing matter, especially if Miley will be there," Truscott said. "Demolishing Bobst will make it so there is one less place I cry my sorrows away during midterm season."
All Stern students have developed a coalition against this benefit concert called Keep the non-Sternies in Bobst Prison.
Stern senior Rico Suave, organizer of the coalition, said the demolition is unnecessary.
"Even though we never go into Bobst because it doesn't have NYU Stern WiFi, I don't think the demolition should happen because then we will be overcrowded in Stern," Suave said in an email. "The glitz and glamour that we live in will be ruined. Remember: #KeepthenonSterniesinBobstPrison."
A version of this article appeared in the Tuesday, April 1 print edition. Mowgli is a small Indian boy who wears a red thong and lives in a jungle with talking animals. Email him at [email protected]