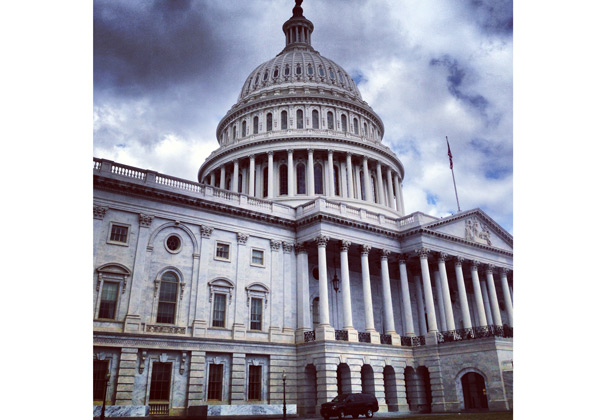 D.C. Day, hosted by NYU's Office of Government Affairs and Community Engagement and the John Brademas Center for the Study of Congress, was held on March 25 and 26 in Washington, D.C. The purpose of the event was for students to voice their support for student federal aid programs to members of Congress on Capitol Hill.
Federal programs include the Pell grant, Federal Work-Study, America Reads, Perkins loans and Stafford loans.
Tom McIntyre, the assistant director for external relations and special programs at NYU Washington, D.C., spearheaded the program, which has existed for almost 20 years. The first 10 years were in conjunction with Columbia University and Cornell University. However, NYU has organized D.C. Day independently for the last 10 years.
"A lot of our students rely on financial aid, so the hope is to find students affected by the decisions of Congress in their financial aid package … to go there to then explain the importance of student aid programs," McIntyre said.
The day started with a breakfast on Capitol Hill, followed by NYU guest alumni speakers. The group of students then broke into groups of five and met with four members of Congress to advocate for and explain their experience with federal student aid. Some students watched a vote pass in the House of Representatives while others familiarized themselves with the city. The day ended with a tour of Capitol Hill.
CAS junior Preeth Srinivasaraghavan said she enjoyed her D.C. Day experience because the legislative directors were relatable.
"It was great to talk to them about financial aid, because they're not too far from college, and they would probably understand a little bit better than someone who's more senior," Srinivasaraghavan said.
LS freshman Robert Devling said talking to the legislative directors was productive and he enjoyed the opportunity.
"I talked about them restoring levels of funding to pre-sequestration, and how important it is to, if they can't increase funding, at least get it back to what it was," Devling said.
Currently the maximum award for the Pell Grant is $5,730. For the benefit of the students, the Obama administration is requesting a budget increase, resulting in the maximum Pell Grant being increased by $100.
Steven Ettannani, legislative director and assistant to Carolyn McCarthy, highlighted the importance of students getting involved in sustaining these funds. Ettannani said it is the duty of students to explain their needs to lawmakers because their first-hand experiences are effective for advocating the cause.
"Education is especially important in this regard," Ettannani said. "Lawmakers are often times decades removed from school, and the higher education landscape has changed incredibly over the years. School costs more for one and there are new ways to receive education and teach curriculum."
Michael Frazier is a contributing writer. Email him at [email protected]