Memorial honors Triangle Shirtwaist Factory fire victims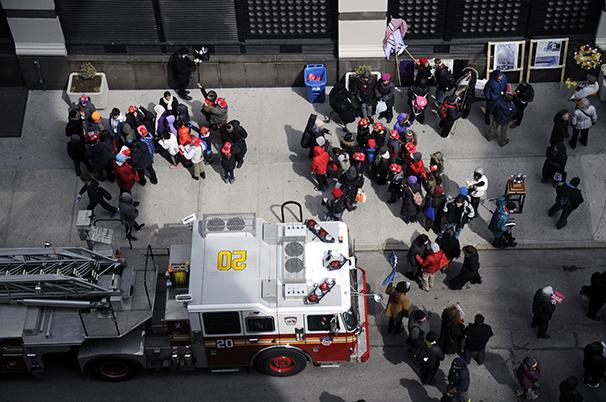 Students gathered at the corner of Washington Place and Greene Street to commemorate the 103rd anniversary of the Triangle Shirtwaist Factory in an event sponsored by Workers United, Remember the Triangle Fire Coalition and the Service Employees International Union.
The fire that broke out in a garment factory in the Asch building in 1911, killing 146 people, raised awareness of workers' rights and working conditions. The location of the fire is now NYU's Brown Building.
Héctor Figueroa, president of SEIU affiliate 32BJ, said the annual event is a way to remember the deceased and examine current labor conditions.
"Our members took part in the event today both to honor those who died in a horrible and preventable workplace accident 103 years ago and also to call attention to the fact that workers continue to labor in unsafe conditions," Figueroa said.
A stage was set up for speakers and, instead of conventional signs, audience members held up long sticks with pieces of fabric at the end to represent shirtwaists. Around each "shirtwaist" were sashes that had the names of people who died, as well as their ages.
Manhattan resident Allison Scola said she feels connected to the victim her shirtwaist represented, Nicolina Nicolose.
"I've researched her life and I feel really close to her, and I wrote a song about her from her point of view when dying actually," Scola said. "I come here to honor her because she gave me a beautiful song to sing."
Scola, an Italian-American, said she came to the memorial because she wants to remember what immigrants from her country went through.
"I am inspired by these immigrants who came here for a better life but perished, just so someone like me today could have better working conditions," Scola said. "I want to celebrate the people from Sicily, where my grandparents came from, and recognize the hard work that they put in so I can live the way I live today."
Occupy Wall Street participant John Thorson said he thinks the event is important to encourage struggling workers to fight for better conditions.
"This is where we meet again, because we are at the same place in history where the oligarchs have the power and, until the people are willing to work and fight for their rights, it's only going to get worse," Thorson said.
Members of NYU's Graduate Student Organizing Committee was also in the audience. Graduate anthropology student and member of the union Natasha Raheja said GSOC was there to continue their dedication to address labor struggles everywhere.
"Our union is committed to connecting to labor struggles across the city, across the United States, across time and [to] recognizing that we are a part of a larger historical effort," Raheja said.
She also said there are many labor struggles around the world, such as in Bangladeshi garment factories, and that the public should not discount the importance of such struggles just because of distance.
"We are implicated in that as consumers," Raheja said. "We need to understand that there is a spatial distancing of production and there is a respatialization of industry but we are not absolved of the implications."
A version of this article appeared in the Wednesday, March 25 print edition. Additional reporting by Tatiana Baez. Kavish Harjai is a news editor. Email them at [email protected].