Cunningham juxtaposes fashion, architecture in exhibit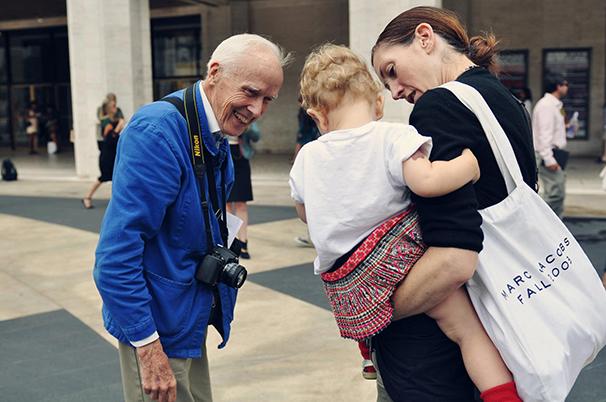 New York City is known for its endless number of sights to see and monuments to visit. Street photographer Bill Cunningham exploits this feature in his new exhibit at the New York Historical Society, offering viewers a vision of the limitless nature of time and history.
Taking street style to a new level, Cunningham's collection, "Facades," combines the old with the new. His subject, Editta Sherman, is depicted at notable monuments around New York City, dressed in attire specific to the time period in which the building was constructed. Cunningham's series of 88 gelatin prints exposes the rich past of the city and offers viewers insight to street-style photography as a means for historical documentation.
Cunningham began his project in 1968, juxtaposing the city's rich historical past aside the city's richest outfits. By the end of his work, Cunningham had photographed over 500 outfits at 1,800 locations in New York City. He wrote a short commentary for each image, explaining the history depicted in the background. In 1978, Cunningham published his book "Facades" as a collection of these images featuring his artistic muse around the city. On March 14, this photo book was brought to life, allowing viewers to enjoy his stunning images on a much larger scale.
The defining feature of Cunningham's collection is the way in which he combines the architecture of New York City with an eye for fashion photography. One image depicts Sherman in front of the Guggenheim Museum wearing a fur hat that reflects the spirals of the structure behind her. Hats are used to mimic the architecture of many other buildings he photographs within the collection. Cunningham uses these facets of construction as inspiration for the model's clothing and ultimately as a way to preserve the historical qualities of these notable buildings.
Cunningham's fascination with fashion bleeds through his images, making permanent the aesthetic aspects of each time period. He pairs luxurious furs and rich materials with the dreary, rough surfaces found in an urban environment. In a particularly intriguing photograph, Cunningham places Sherman, adorned in full Victorian attire, on a seat in a subway car covered with graffiti. His images are often humorous because of the harsh contrasts depicted, and Cunningham establishes a powerful connection between the borders of past and present.
Tisch sophomore Maria Strycharz said she enjoyed the fashion legend's exhibition.
"Cunningham has a unique talent for street style photography and this exhibit really incorporates his style with the physical aspects of New York City," Strycharz said. "I like how fashion and architecture play off of each other in his photographs throughout 'Facades.'"
"Bill Cunningham: Facades," is open now through June 15 at the New York Historical Society.
A version of this article appeared in the Wednesday, March 25 print edition. Kate Marin is a staff writer. Email her at [email protected]