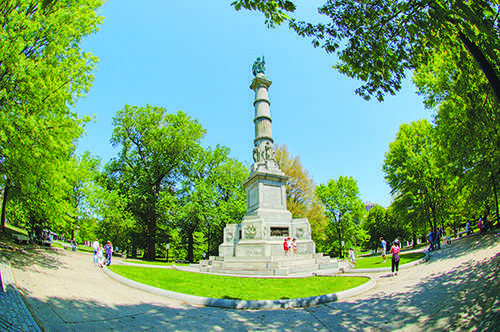 Boston caters to the college crowd with a slightly lower price tag than New York City. A round-trip ticket with Megabus is under $45 for a weekend and nearly half that during weekdays. The ride is about four hours. Although transportation is easy and inexpensive, try to stay with a friend in the area to save some money. Most hostels, such as Friend Street Hostel and Cafe, start at $35 per night.
With a unique and historic past, Boston offers many attractions for visitors with every kind of interest. The Museum of Science and the Museum of Fine Arts are two of the highest-rated in the area. Boston Common and the Public Gardens are situated downtown and are similar to New York's Central Park. An authentic Chinatown is also downtown, next to the theater district. If you are looking for a musical experience, bostonconcerts.org provides a guide to the many bands and symphonies on tour that are making stops in Boston.
Newbury Street, similar to SoHo, is known for its upscale shopping and boutique finds. Take the subway to Cambridge to see Boston's hip neighboring city, featuring the Harvard Peabody Museum and college nightlife. Once you are ready to eat, be sure to check out the North End, which is home to some of the best Italian restaurants, such as Mamma Maria.
The T, Boston's subway that costs $2.50 per ride, stops at all of these places. In a city like Boston, with ease of transportation and activities in every corner of the city, you will be able to completely customize your spring break getaway.
A version of this article appeared in the Thursday, March 13 print edition. Madeleine Ball is a contributing writer. Email her at [email protected]