100 Montaditos expands menu to include pricier tapas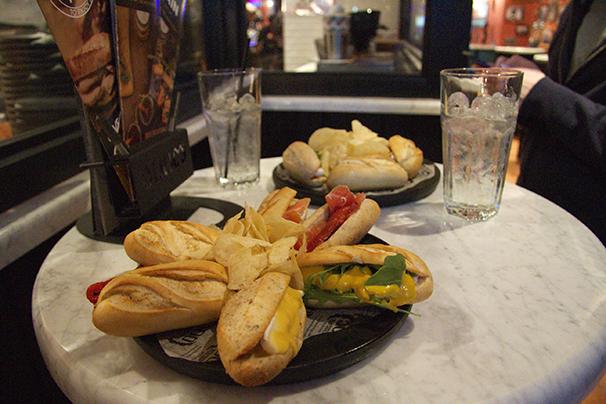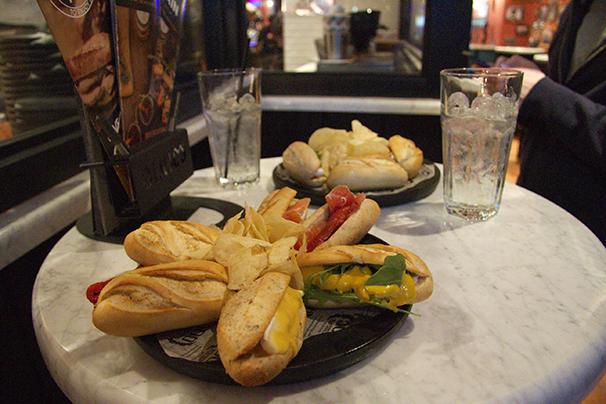 100 Montaditos, just blocks from Washington Square Park, is known for its wide selection of miniature sandwiches. At the end of last week, the restaurant began serving several new menu items. The owners expanded their offerings in light of the success they have seen since opening in November.
The new menu items are keeping with the Old-world Spanish theme. The restaurant is now serving olives from Spain as an appetizer ($3). The olives, which come in a variety of colors from bright green to dark purple-tinted red, are spicy and flavorful — the perfect precursor to a cold beer or a glass of sangria.
New platters include paella ($12), croquetas ($9), chistorra ($9), tortilla española ($12) and calamari ($9). These prices are considerably higher than the famously cheap sandwiches ($1.50 to $2.50), but still worth the price tag, especially as late-night bar food goes.
The standout of the platters is the calamari. Each piece is lightly battered before frying, and served with lemon and a mayonnaise-based sauce that is popular in Spain.
The croquetas and chistorra (spiced sausages) are both distinctly Spanish. Though their intense flavors and the chewy texture of the chistorra may be a little disconcerting to those unfamiliar with traditional Spanish tapas, they are sure to satisfy fans of Spanish cuisine.
CAS sophomore Montserrat Yañez enjoyed her experiences at 100 Montaditos.
"I like to go to 100 Montaditos because they have authentic Spanish food and whenever I go there, I feel like I'm in Spain enjoying some tapas," Yañez said.
The price, however, is a downfall, Yañez said.
"The only thing I wish is that they'd kept the same prices they have in Spain, because they're known for having affordable yet delicious food," she said.
Overall, the menu additions at 100 Montaditos (located at 176 Bleecker Street) will please regulars and newcomers to the restaurant.
A version of this article appeared in the Tuesday, March 11 print edition. Chandler West is dining editor. Email her at [email protected]