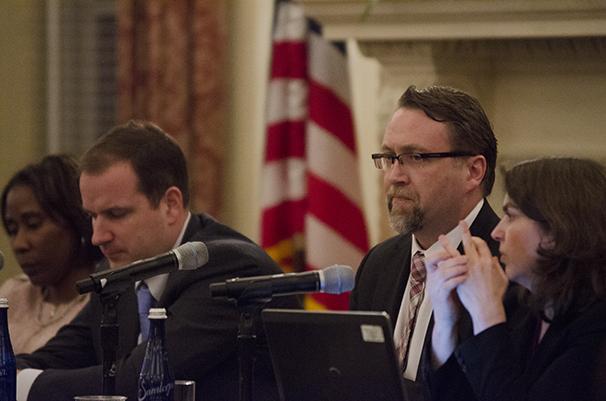 Cyber security experts discussed the ongoing threat of hacking and importance of using secure technology at the NYU School of Law on March 10.
Samara Moore, the White House director of Critical Infrastructure Cybersecurity, and a panel of government and private sector officials explained the executive order "Improving Critical Infrastructure Cybersecurity" that was issued on Feb. 12.
The preliminary framework, designed by the National Institute of Standards and Technology, is an assessment tool used for the security of governments, businesses and individuals from cyber threats.
Other experts joined Moore, including Jon Boyens, senior adviser of the National Institute of Standards and Technology at the U.S. Department of Commerce; Bob Kolansky, senior adviser to the assistant secretary for Infrastructure Protection at the U.S. Department of Homeland Security; and Naomi Lefkovitz, the senior privacy policy advisor at NIST. Michael Coden, the vice president of NextNine Inc., moderated the panel.
Moore began the panel by explaining that there has been an increase in the use of technology, which affects the way the framework was designed.
"This change is a concern for us in managing cyber risk," Moore said. "We are concerned about the risk posed to national security, economic security, public health and public safety."
Lefkovitz said the framework planners included ways to protect individuals' privacy and civil liberties in the executive order in an effort to engage citizens.
"What the EO is really saying is that it is important and it is possible to preserve key values around privacy and civil liberties while conducting cyber security activities," Lefkovitz said.
Boyens said the main parameter for the framework was that it is voluntary. Other parameters included cost-efficiency and flexibility.
"The parameters that we were given in development were two scoops of ice cream … under 100 calories," Boyens said. "It's the perfect dessert that you can possibly have. [It] tastes great, doesn't have too many calories, but the question was, how were we actually going to get there?"
Third-year law student Eric Messinger said the subject of the panel was one that many people have strong opinions about, but they do not understand the issue's intricacies.
"It's sort of a rare opportunity to get a chance to hear from a lot of people who really do know what they're doing and are directly invested in the process," Messinger said.
A version of this article appeared in the Tuesday, March 11 print edition. Ann Schmidt is a news editor. Email her at [email protected]