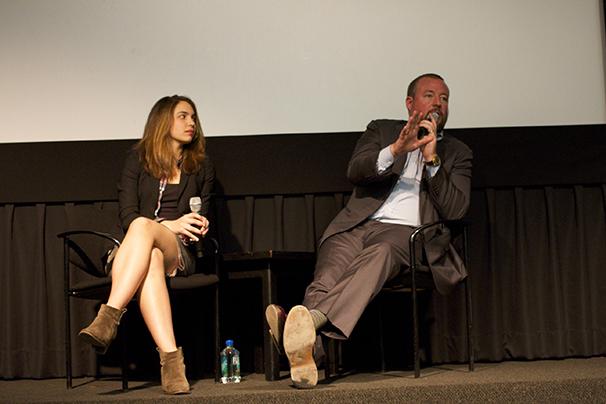 A pre-screening of the first two episodes of "Vice's" second season, airing on HBO on March 14, took place at the Cantor Film Center on March 5. Co-founder Shane Smith participated in a question-and-answer session after the preview.
Vice magazine's series features journalists who immerse themselves in the events making headlines around the world.
Smith is highly respected in the industry as a visionary in the field of modern journalism. In 1994, Vice started as a punk magazine that has since evolved into a leading media outlet.
One member of the audience asked for Smith's view on the show not being seen as a serious form of media.
"I don't think that our audience sees us as non-serious," Smith said. "I think that the New York Times and Washington Post see us as non-serious. I don't really care where [Vice] came from, it's what we're doing now — you know, everyone in the world is now using our footage from Kiev, Thailand and Venezuela, because we have more boots on the ground."
Smith explained that he thinks objectivity can be sacrificed when telling difficult stories.
"You just cannot not have a point of view when, for example, observing South Sudan," he said.
CAS freshman Alejandro Shelley-Diaz said the episodes that were screened could have investigated the issues more thoroughly.
"The program seemed a little limited," Shelley-Diaz said. "It's so short and very narrowly focused on the issue. Perhaps there's room to explore further."
However, Shelley-Diaz said he did admire Smith's goal.
"I like the moving away from mainstream typical media and moving toward the online world," Shelley-Diaz said.
Laura Wojcik, a junior at Syracuse University and exchange student from Paris, found Smith's journalism to be extremely innovative.
"He is not afraid of saying what he wants to say," Wojcik said. "That's what makes the difference. We need people like that."
Ilona Tuominen is a staff writer. Email her at [email protected].
*A previous version of this article stated that WSN staff columnist Lena Rawley moderated the question-and-answer session. Tisch junior Melanie Ward moderated. 
WSN regrets the error.