Kimbler named NYU baseball coach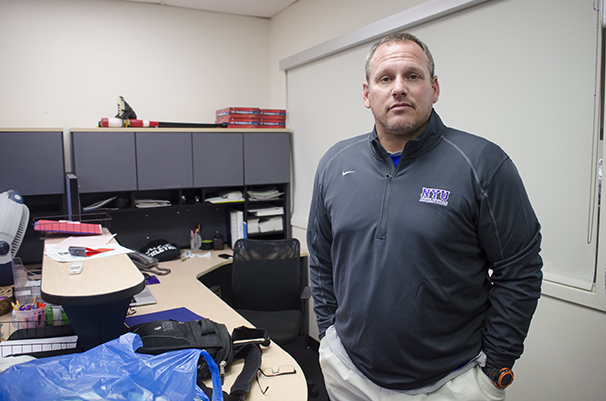 NYU announced on Feb. 24 that Douglas Kimbler will be the coach of the university's first baseball team since 1974.
After being drafted by the Detroit Tigers and playing minor league baseball for eight years, Kimbler served as coach at multiple universities before coming to the then Polytechnic Institute of NYU in November 2012.
The NYU athletic department sought out Kimbler's help to put together a baseball team last summer, a process that was completed last week in Florida. Kimbler, unsure of his position on the future team, recruited freshmen who will be entering NYU in the upcoming fall semester. Now, as the official coach, he is excited to work with his chosen class.
"It's obvious that they know the excitement is brewing," Kimbler said. "They know what they're getting into. It takes a special kid to come in here as a freshman at NYU in the first year of a baseball program."
While these recruits will make up the majority of the team, Kimbler said he would be happy to take walk-ons.
"Every person that is interested in playing baseball at NYU should come out and try out," he said.
Kimbler hopes that students who gave up baseball in high school for academics will try out for the NYU team.
He will be looking for some upperclassmen, including players from his current Poly team, to add to the team of freshmen.
The final roster will not be announced until November or December of the Fall 2014 semester, Kimbler estimated. He said injuries and loss of interest could contribute to a change in team members.
Kimbler said he has high expectations for the upcoming season and knows others have high expectations of him.
"My goal is to make sure that they are always prepared for everything that is coming their way, whether on the field, in the classroom or specific things that go on in life," Kimbler said.
"My role here is not just [to be the] baseball coach, but to make sure I challenge [the players] in every way I can, make it a healthy environment and healthy competition and make sure that everybody moves in the right direction," he added.
Kimbler said that with the merging of the two schools, the process of building the team has been a big project and he is already visualizing the first game of the season.
"[I] can picture that opening day, that first game, that first pitch, those are all exciting feelings because all of that is coming into place," Kimbler said.
Francisco Navas is sports editor. Nicole Brown is editor-in-chief. Email them at [email protected]