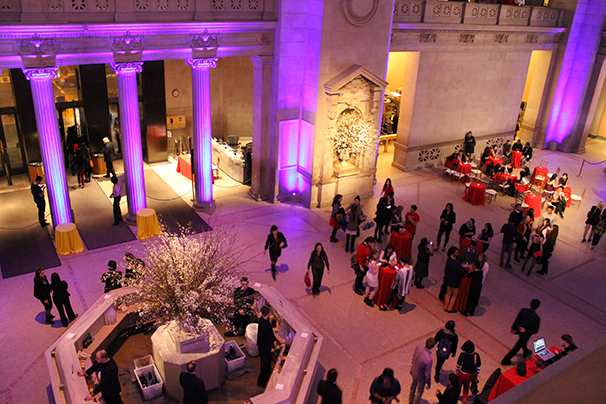 The atrium of the Metropolitan Museum of Art was awash with a lively sea of red on Feb. 20.
The College Group at the Met, an organization comprising students from several New York City universities, hosted a student event, "A Brush with Asia," at the Met in honor of the exhibition "Ink Art: Past as Present in Contemporary China."
The semiformal event allowed students to privately tour the exhibit after museum hours at no cost and provided them a dinner buffet and several exhibition activities. Students were encouraged to wear red for good fortune and the Lunar New Year, in line with the theme of contemporary China.
Stern sophomore Michael Eichert, who serves on the College Group as the co-coordinator for publicity, helped organize the event.
"The purpose of the College Group is to drive student awareness and engagement in exhibits here at the Met," Eichert said.
In addition to a private tour and dinner buffet, the event also featured a photo booth and a tattoo artist demonstrating techniques used in the artwork.
Katherine Nemeth, college marketing associate at the Met, worked with students in the College Group to plan the night's events and develop the evening's theme.
"The students were thrilled about the exhibition 'Ink Art: Past as Present in Contemporary China,' and we worked closely with the curators of the exhibition to develop the event," Nemeth said.
Several artists featured in the exhibit were also present at the event to discuss their work with students and to answer questions.
Katharine Boris, a freshman in CAS who had never been to a CGM event before, said she liked that she was given the opportunity to learn more about the art.
"What I found most interesting was the talk before with some of the artists and the curator," Boris said. "I had been to the Met before, but this visit was completely different."
Eichert said opportunities like this event are only available to students through College Group events.
"Regular Met events and parties are often closed to the public and open only to members," Eichert said. "CGM events are open to all college students."
In addition to promoting student awareness of the happenings at the Met, College Group events also work to build bridges between students from different local colleges, Eichert said. With a turnout of just over 1,000 students, "A Brush with Asia" attracted students from NYU, Columbia, Fordham, Hunter, Juilliard and Pace, among others.
Nemeth noted that the College Group offers a variety of programs for students. Along with large events like "A Brush with Asia," CGM also organizes programs such as drawing classes, workshops, film screenings and special tours.
"The events are a tremendous way for students from all the different schools in the area to gather and celebrate a common interest and to better understand one of the most significant cultural landmarks in the city," Eichert said.
A version of this article appeared in the Monday, Feb. 24 print edition. Mimi McCann is a contributing writer. Email her at [email protected]