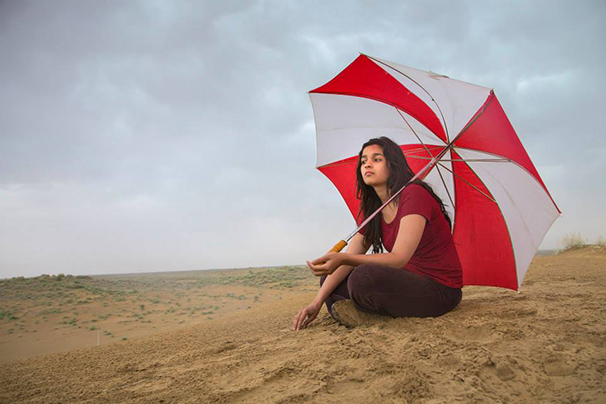 Poignant at times yet excessive at others, Imtiaz Ali's 2014 Bollywood drama "Highway" challenges the contemporary American conventions of narrative film.
The plot revolves around Veera, a city girl from an affluent family who is about to be married. She craves adventure in her life but, when a gang of convicts abducts her in front of her fiance, this attitude understandably shifts. The gang members realize that they have a wealthy industrialist's daughter in their hands and decide to hold her for ransom, despite their concern about her family's power.
Eventually, a bond forms between the grim leader Mahabir (Randeep Hooda) and Veera (Alia Bhatt). Veera grows, finding strength in the dangerous yet exciting journey through the rural regions of India. She also tries to help Mahabir come to terms with his troubling past. While her charm infects his men, Mahabir keeps his distance for fear that he will fall in love with his captive.
The narrative fluctuates according to Veera's emotions, giving insight to her volatile behavior. Her talkative personality can be annoying at times, but her strong sense of compassion overrules her negative traits. This sensitivity allows the audience to feel for her plight.
While her love interest Mahabir is unlikeable to begin with, he ends up being just as relatable as Veera.
The film faces its main challenge in that it cannot always steer smoothly between two different genres. Bollywood films often feature lively fantasy elements, usually involving musical ballads. The campy genre requires that audience members completely suspend their disbelief to connect. On the other hand, "Highway's" serious drama presents itself as real and dark.
At first, we are under the impression that the film is a run-of-the-mill thriller, similar to "Taken." Yet soon after its opening, the narrative reroutes itself toward the dramatic, romantic and eccentric. These stark changes in genre seem staggering initially, but eventually the film finds a smooth, natural course.
Veera's journey to self-discovery is not an easy one for either her or her audience. While its wavering vehicle of emotions may be frustrating, "Highway" has moments of transcendence, if viewers are only willing to hold on for the ride.
David Leidy is a staff writer. Email him at [email protected]