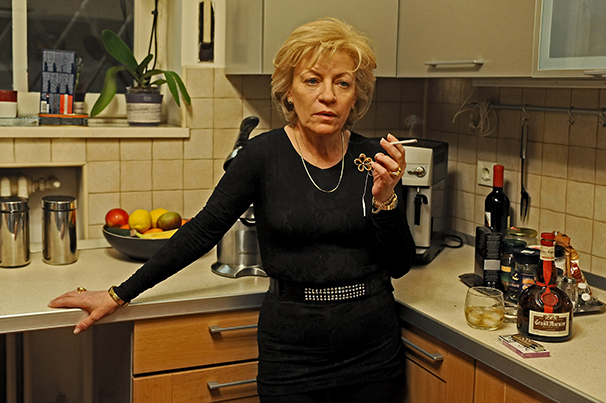 "Child's Pose" is as real as it can be. The film, which opens Feb. 19 at Film Forum, tells the story of a mother's love for her son in the face of tragedy and does so in such a way that viewers have no choice but to step into the reality created by the filmmakers.
The third feature from Romanian director Calin Peter Netzer, "Child's Pose" was selected as the Romanian entry for Best Foreign Feature Film at the 86th Academy Awards. The film also received last year's Golden Bear Award at the 63rd Berlin Film Festival.
"Child's Pose" marks the continued prosperity of what has been called the Romanian New Wave.  Heralded in by internationally acclaimed films such as Cristi Puiu's "The Death of Mr. Lazarescu" (2005) and Corneliu Porumboiu's "12:08 East of Bucharest" (2006), this surge in Romanian filmmaking is noted for its critical insights into modern Romanian culture and society, a vein within which "Child's Pose" excels.
The film begins with a dialogue between two sisters, Olga (Natasa Raab) and Cornelia (Luminita Gheorghiu), discussing the alienation of Cornelia's son, all in a single shot.
Viewers follow Cornelia and watch her celebrate her birthday, diving into the world of the Romanian nouveau riche. At an opera rehearsal, Cornelia hears the news that her 30-year-old son, Barbu (Bodgan Dumitrache), has been in a car accident resulting in the death of a little boy.
Barbu is a deadbeat with no irons in the fire whose life is complicated by a girlfriend with a child from a past relationship. When his mother tries to re-enter his life after the accident, Barbu fights to pull away from her, even as she tries to resolve the issue. The audience watches as Cornelia pushes herself and those around her to their limits to cleanse her son's reputation.
With camera work by Andrei Butica, the film lends itself largely to a simulation of documentary, grabbing the viewer with its stark ultra-realism right from the opening credits. Certain scenes call Michael Haneke (director of 2012's "Amour") to mind, as they take their time and let the viewer sit beside the characters in their own world.
Gheorghiu constructs a mortifying and empathic image of a mother who is willing to sacrifice everything in order to keep her son close. Having appeared in Haneke's "Code Inconnu" and Puiu's "The Death of Mr. Lazarescu," Gheorghiu continues to affirm her reputation as a titan of Eastern European cinema.
The script, co-written by Razvan Radulescu and Netzer, is crafted with such meticulous attention to detail that viewers might mistake it for nonfiction.
What "Child's Pose" accomplishes in 112 minutes cannot easily be mimicked. While opening a window into the world of Eastern European bourgeoisie, the film — thanks to its direction, brilliant performances and sharp screenplay — does not just give the viewers a well-fashioned story, but also a real world imbued with real life.
"Child's Pose," unabashed in its honesty, leaves the audience eager for Netzer's future work, adding itself to the body of powerful European cinema.
A version of this article appeared in the Tuesday, Feb. 18 print edition. David Israeli is a staff writer. Email him at [email protected]