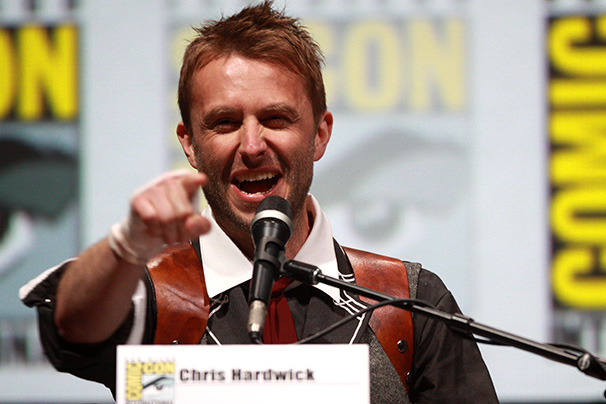 Chris Hardwick may very well be the hardest working nerd in show business. Along with the strong online presence of his "Nerdist" podcast, Hardwick has hit the airwaves with discussion-based specials including  "Talking Bad," "Talking Dead" and his newest project "@midnight," a daily game show that challenges participating comedians to come up with material about funny social media posts on the spot.
A native of Portland, Ore., Hardwick is the son of professional bowler Billy Hardwick and began his career as a disc jockey at a Los Angeles radio station in 1995 after graduating from UCLA. From there, he pursued radio, and 15 years later Hardwick became the chief creative officer of "Ministry of Laughs," a network of comedy podcasts dedicated to discussing everything from comic books to TV shows to video games. A television version of "Ministry" airs on BBC in the United Kingdom.
Most recently, Hardwick has helped viewers to process the twists and turns of AMC's "The Walking Dead," hosting a post-episode talk show, "Talking Dead," which is a half-hour talk show that airs immediately after the episodes on AMC. On a conference call with WSN, Hardwick said the success of the show is due to the intense experience viewers have during the show.
"I'm just glad that people need remedying after watching shows like 'Breaking Bad' or 'The Walking Dead,'" he said.
Meanwhile, Hardwick's newest project "@midnight," which premiered Oct. 21 on Comedy Central, has taken the game show genre in a new direction, embracing social media as its topic.
"This makes us incredibly interactive with the audience and the viewers at home," Hardwick said of the program.
Tweets, Vines, Instagrams, YouTube comments, Reddit and just about every other Internet platform is fair game. Past guests on the show have included Judd Apatow, Horatio Sanz, Weird Al Yankovic and David Spade.
"The show tapes a few hours before it airs, so in some cases, it's a lot like looking at current events through a social media lens," Hardwick said.
Airing Monday through Thursday at midnight, Hardwick's new project has been picked up for a 40-week second season.
Hardwick said social media are becoming their own language, and people are beginning to see references to it not only in conversation, but also in film and television.
Everything seems to be going right for this archetype of nerd culture who has become a successful talk show host, podcast emcee and stand-up comedian.
"I want people to be able to celebrate the things they like, and not be ashamed of it," Hardwick said. "That used to be me. I'm glad to give people a chance to embrace their inner nerd."
A version of this article appeared in the Tuesday, Feb 11 print edition. Vincent Salvano is a contributing writer. Email him at [email protected]