NYU 2031 still sparks protest on campus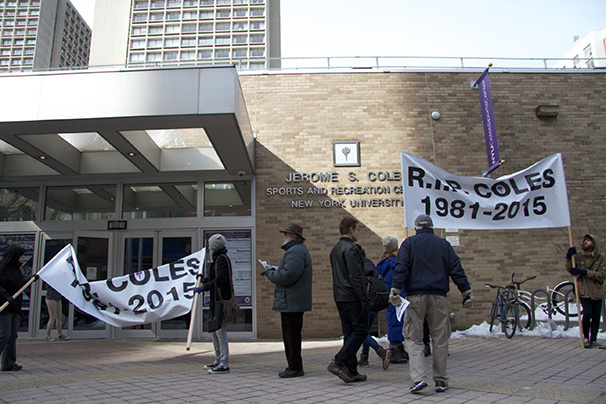 Two large banners reading "RIP Coles 1981-2015" stood in front of the entrance to Coles Sports Center on Feb. 9 as part of a protest led by the Student Labor Action Movement and Faculty Against the Sexton Plan.
They protested against the university's plan to demolish Coles and replace it with a new building, sometimes referred to as the Zipper building, as part of the NYU 2031 expansion plan.
According to an interim report released by the Space Priorities Working Group in July 2013, the replacement will include a new athletic facility to better serve NYU Athletics' needs and a multipurpose site to serve as a shelter for the university and neighboring communities during disaster.
Ted Magder, chair of the Space Priorities Working Group and Media, Culture and Communication professor, confirmed that these attributes would be incorporated into the new building. He also said the building will include academic classrooms, which will feature studios for performing arts majors. Magder said the building has not yet been designed and therefore cannot be called the Zipper building.
Mark Crispin-Miller, a member of FASP and MCC professor, said the Zipper building would also include faculty apartments, which he deemed unnecessary.
"This faculty apartment building is supposed to contain specifically 90 units, but we know of over 90, specifically about 95 in Washington Square Silver Towers alone that have been standing empty for years," Crispin-Miller said. "So we don't understand why they want to build a whole separate apartment building."
Crispin-Miller also said only 19.4 percent of the new building will be used for academic space. He did not cite the sources for his information.
Magder, citing the interim report, said there will be more space for academic classrooms than what Crispin-Miller cited and that there would be no commercial strip but perhaps a spot for coffee or tea.
Daniel Cole/WSN
However, members of SLAM and FASP continue to protest.
SLAM member and Gallatin sophomore Daniel Lightfoot said it is wrong to tell possible incoming students that the Coles building would still stand when they attend the school.
"We are upset because NYU hasn't been transparent with this process with regards to them wanting to tear down the gym as a part of the NYU 2031 plan [during] tours for prospective students," Lightfoot said.
Crispin-Miller added that the new building will be extremely expensive, and the cost will be shouldered by students in the form of additional debt.
However, Magder said constructing the building would cost $1 billion, while the flyer handed out at the protest said it would be a multi-billion dollar project. He said the building will be on NYU property, thus eliminating the need to spend money on buying property the university does not already own.
LS sophomore Mycaeri Atkinson said she was unaware of what NYU's plans were.
"I had no idea," Atkinson said. "They should definitely tell us what's going on so that we have a say."
However, all university members are invited to attend the Working Group's town hall meetings to ask questions and voice concerns.
NYU spokesman John Beckman said the construction of the new facility awaits the Working Group's final report, as there are no legal barriers.
"Should that report advocate moving forward with the facility on the Coles site, addressing the needs of Coles users — team athletes and those who go there for fitness and recreation — will be a necessary part of the process moving forward," Beckman said.
Magder said that the report should be published soon.
A version of this article appeared in the Monday, Feb. 10 print edition. Kavish Harjai is a news desk editor. E-mail him at [email protected]