Poly student launches staring competition app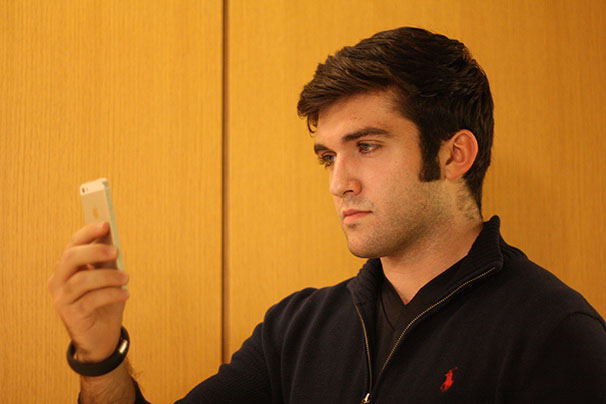 Barely four months after the release of his popular photography app Perfect Shot, Poly freshman John Meyer is back on the App Store.
This time, Meyer has launched an app that integrates the simplest of games with the technological possibilities of iPhones to create Staring Contest. The app is a product of his company TapMedia and is compatible with the iPhone, as well as the iPad and iPod Touch.
Staring Contest works by detecting elements on the user's face and using it to create friendly competition. Using the front camera, two players battle each other in a virtual stare-off. The phone identifies the first player who blinks and proclaims a winner.
"It's really new and there's nothing else that really does the same thing," Meyer said. The app also features a high-scores table and chatting capability.
Users can expect a new update for Staring Contest soon that will allow them to create an account through Facebook, Twitter or email. The user will be able to import friends from social media accounts to play against or, if the player chooses, challenge a stranger to a stare-off.
The word "stranger" might be a stretch, though. The app will use the Facebook or Twitter integration to pair up players that are somehow related.
"It's almost like semi-strangers," Meyer said. "They're not completely random people."
In the current version of the app, players cannot see their opponents live. However, Meyer has plans for a more advanced interface. In a future update, Meyer hopes, Staring Contest will allow users to actually see their opponents as they play, be it a Facebook friend, Twitter follower or stranger.
"The next versions are really stepping out of the box and making it a really unique experience," Meyer said. "We've been working really hard in making it sort of a live video chat capability."
Additionally, the app will feature a "distraction store" in which the users will be able to purchase diversions for their opponents, such as smashing eggs and funny noises.
CAS sophomore Megan Rafferty said the app's concept is unusual.
"It's interesting how they took such a basic face-to-face game and translated it to a virtual environment," she said.
Meyer has a wide range of interests when it comes to app development. In addition to launching several successful apps through his company TapMedia, Meyer founded DevFund, a nonprofit organization that encourages software developers to donate money to charity. Meyer is determined to set an example — 20 percent of the profits generated during Staring Contest's lifetime will go directly to DevFund.
With Staring Contest still in its early stages, Meyer is already starting new projects with TapMedia, and an even bigger project expected in May.
"It will revolutionize journalism and news in an age of smartphones and tablets," Meyer said.
In the meantime, Meyer will continue to multitask as he works on new projects and prepares for the redesign of one of his earliest apps for the iPad, Real Aquarium HD.
A version of this article appeared in the Monday, Feb. 10 print edition. Lorena Tamez is a contributing writer. Email her at [email protected]