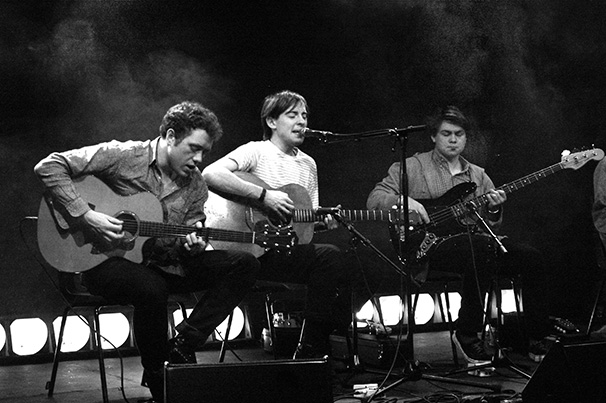 Since its formation in 2005, London band Bombay Bicycle Club has been relegated to the mass heap of indie pop rock churning out of England in the new millennium.
Aside from the whimsical lyricism of frontman Jack Steadman, Bicycle Club's first two LPs offered little to distinguish them from similar acts emerging around the same time.
On their fourth full-length release, "So Long, See You Tomorrow," Bombay Bicycle Club has combined the unique subtleties from previous efforts to make a new sound that establishes the band as worthy of much more attention.
Inspired by Jack Steadman's treks through Turkey, India, Japan and the Netherlands, "So Long" blends heavy influences from these countries. The album also features electronic music with the dreamy soft rock Bombay Bicycle Club has worked with on past releases.
Steadman produced the album with the assistance of engineer Mark Rankin, notable for his work on albums such as Adele's "21" and Queens of the Stone Age's "…Like Clockwork." A labor of love 18 months in the making, each track on "So Long" is polished and layered.
Traditional structure is left behind in favor of a more experimental route on most of the songs. While none have the immediate appeal of previous singles like 2011's "Shuffle," the rich depth of sound on this LP is far more rewarding, exposing further complexity with every listen.
Another standout, "Feel," fuses Celtic and Indian instrumentation atop a bhangra-style beat, leading into a catchy chorus. Songs such as "Home By Now" and "Come To" maintain danceable rhythms while still remaining light and airy.
Longtime collaborator Lucy Rose returns on "It's Alright Now," and newcomer Rae Morris contributes vocals to the second single, "Luna." The crown jewel of the album, "Luna" combines lush Bollywood sounds with a groove worthy of a Talking Heads song. Morris's angelic echoes splendidly complement Steadman's wavering vocals, and the track showcases Bombay Bicycle Club's full potential for crafting inventive pop music.
Things only begin to flounder in the brief moments that the band slows down. Songs like "Eyes Off You," while earnest and emotional, are not up to par with the band's other songs. Still, these moments are few and far between — the cohesiveness of the album is impressive considering its diversity.
"So Long, See You Tomorrow" reminds listeners that great music is about having fun. Finally having found a sound that suits them well, 2014 should be an extremely fun year for Bombay Bicycle Club.
A version of this article appeared in the Thursday, Feb. 6 print edition. Sal Maicki is a contributing writer. Email him at [email protected]