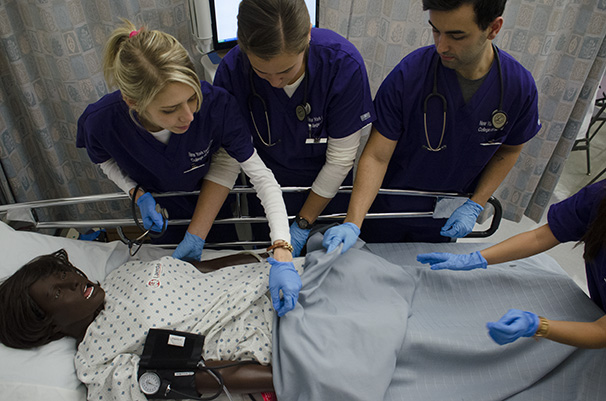 Results of a survey distributed among nurses from a sample of 14 states, drawn from a pool of data from nurses in 34 states, and a  second sample of nurses from 14 states, indicated that nurses licensed in 2010 or 2011 were less likely to work in a hospital than nurses licensed in 2004 or 2005, according to a press release issued by NYU on Jan. 29.
NYU nursing professor Christine Kovner worked with other institutions to conduct the study about job opportunities for licensed nurses in March 2013.
"Those nurses who we thought would retire have not done so (maybe due to poor economy, maybe baby boomers will just retire later than previous generations)," Kovner said in an email.
Nurse Polina Melnikov at St. Luke's Hospital said experienced nurses stay in the job market because of the poor economy instead of making space for new graduates. Melnikov, who is retiring at the age of 65 in August 2014, will continue to work per diem because of a bad financial situation. Similarly Karen Kipp, who had also worked at St. Luke's Hospital, retired at the age of 68 in September 2012 but then worked part-time as a per diem until the age of 70.
Carol Brewer, the other author of the study and a nursing professor at SUNY-Buffalo, agreed that the current economy played a role in the results of the study.
"We are still living in a world where the Great Recession has a huge decrease on health care demand," Brewer said.
Even if this demand for care does increase along with an improving economy, the nursing situation will remain unchanged for the next couple of years, Brewer added.
"Typically supply and demand are lagged — it takes the market quite a while to catch up to changes in demand," Brewer said.
Kovner said young nurses should not be worried because with significant progress in the economy, experienced nurses will  retire or will return to working fewer hours, allowing emerging licensed nurses to find the jobs they seek.
"I think it means that in the future, nurses will be spending more time in school receiving higher degrees and less time in patient care based settings," Nursing junior Ally Ruiz said.  "The way I view it, the only way we can progress in the nursing profession is to continue our education in school instead of with daily patient interactions."
Nursing sophomore Melanie Streich said she is still optimistic about her future as a nurse.
"The number of hospitals is growing vastly in the United States, and I believe that in a few years, there will be many positions open for the newest nursing graduates," Streich said.
A version of this article appeared in the Wednesday, Feb. 5 print edition. Caren Doueiry is a contributing writer. Email her at [email protected]

*Correction: A previous version of this article stated that a survey of nurses from 34 states was used in the study, but this is incorrect. The study actually used one sample of nurses from 14 states that was drawn from a pool of data collected from nurses in 34 states, as well as a second sample of nurses covering 14 states. Additionally, the story said "According to the study, the only jobs that are available are part-time nursing jobs, which nursing students are not interested in after graduation. Students coming out of nursing school are looking for jobs in magnet hospitals, which only hire a limited number of nursing graduates. The rest of these jobs are filled by nurses that have years of experience." The study did not state that recently graduated nurses could only find part-time jobs that they were uninterested in, that they were looking for jobs in magnet hospitals that hire only a limited number of graduates, or that more experienced nurses fill other jobs.
Finally, the story's teaser said "Study finds few jobs for young nurses." This is misleading, as the study found that recently graduated nurses perceived that they had fewer job opportunities than earlier graduates, rather than that there were few job opportunities.
WSN regrets these errors.