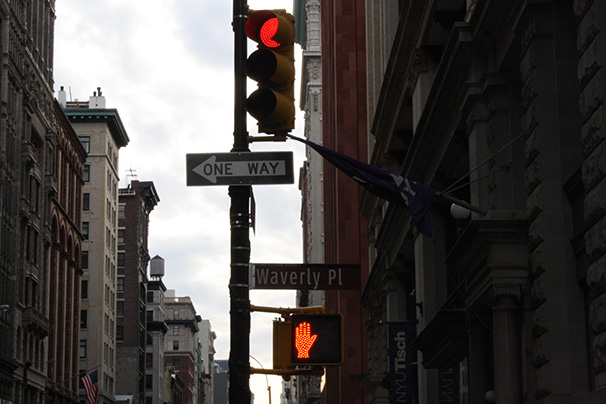 On the corner of Waverly Place and Broadway, there lives a sentient crossing sign. His name is Pop Pop.
Three class of 2014 master's students in technology and design at NYU's Interactive Telecommunications Program — Alexandra Coym, Sam Slover and Steve Cordova — invented Pop Pop, who debuted in mid-December.
"We did this project because we think more and more street objects are going to become connected and data-aware," Slover said. "Rather than focus on utilitarian purposes, we're more interested in how these types of connected objects can brighten life in a city and make people more connected to their city and each other."
Pop Pop has web and physical computing aspects which allow him to experience a range of six emotions and react in real time to situations including rain, jaywalkers and traffic.
"We chose to focus on pedestrian signals due to their omnipresence and their traditional role of helping people navigate the hectic streets of New York," Slover said.
On Pop Pop's website, one can get a feel for the spirit of the project, including who Pop Pop is supposed to be to New York City residents. Pop Pop is designed to be a caring older gentleman who makes sure pedestrians walking through his intersection are safe and happy, according to the website.
Pop Pop does not have official approval from the city, but he has received positive feedback from the students he helps on the way to class. Pop Pop has already made an impression on Steinhardt sophomore Fabian Luna.
"I really think he embodies what I expected when I moved to New York City," Luna said. "He's cool, he's unique, and you can't find anything else like him anywhere. I love him, and I love that something like that exists."
He's also getting notice from non-NYU students, like 45-year-old Michael Ford, a long-time Manhattan resident.
"I walk this way to work everyday and have for the last five years. One day I look up and instead of a little man, this machine is telling me to 'have a fun day,' and then a face appears," Ford said. "It's pleasant. It breaks the routine. I wish more things in life were like Pop Pop."
The trio is pleased with their creation and the warm welcome he has received.
"We're most proud about the positive reactions Pop Pop garnered when he was out on the corner of Broadway and Waverly Place," Slover said. "There were crowds waiting to interact and say hi."
The team also has plans to expand the idea of a sentient crossing sign in others directions, such as explaining local history, leading short group games or interactive trivia while pedestrians wait to cross.
"We want to get people away from being so closed off toward each other, and we think that a fun shared experience around a personified street object can be a great way to do it," Slover said. "Less looking down at your phone, more looking up and interacting with your city and fellow people."
A version of this article appeared in the Tuesday, Feb. 4 print edition. Cassandra Cassillas is a staff writer. Email her at [email protected].