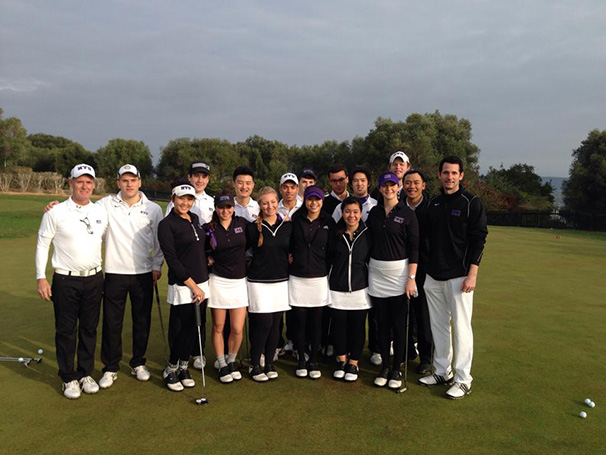 This January, the NYU men's and women's golf teams took a trip to Spain to prepare for the upcoming season. The trip, which lasted from Jan. 4 to 14, included both athletic training and community service.
As part of the teams' service commitment, the golfers worked with "También," an international nonprofit that focuses on using sports as a social integration tool for adults with mental and physical disabilities.
"What a great experience for [the teams] to be able to travel and be so helpful to a wonderful organization," golf coach Todd Kolean said of the teams' efforts.
The next portion of the trip centered on competitive training and was equally fruitful. After being limited to indoor training since October, the men's and women's teams were afforded the opportunity to play outdoors under ideal weather conditions on some of the premier courses that Spain has to offer.
Gallatin sophomore Julius Oppenheimer commented on the importance of these outdoor practices.
"It will be a while before the weather is good enough [in New York] to get out and practice, so getting to play those 72 holes should only help our preparation," Oppenheimer said.
Following a few days of these sessions, the teams entered a two-day exhibition match to test their skills against a talented team of golfers from the La Cañeda club in southern Spain. On the leadership of Steinhardt senior Kristine Shalhoup and Stern senior Kyle Demshki, the NYU golf squad was able to remain neck and neck with Spain throughout the competition. On the final day, the match was decided on the 18th hole and, when the dust settled, it was the Spanish team that had bested NYU by a single stroke.
"It was a tough loss," Kolean said. "I feel that we played a very good match… and I look forward to a great season."
Christopher Bledsoe, NYU's Director of Athletics, shared Kolean's enthusiasm.
"[The trip] was a great way to prepare for the intercollegiate season and the spring semester," he said.
Looking ahead, NYU golf hopes to convert the momentum from a memorable trip to Spain into regular season success and solid match play. The team will kick off its season in March at the UAA Championships in Orlando, Fla.
A version of this article appeared in the Monday, Jan. 27 print edition. Nishaad Ruparel is a contributing writer. Email him at [email protected]